Lumex Is All Set To Get In Shape
By
The Street can be stubbornly unforgiving when its expectations are dashed. But that can produce some alluring bargains, says Michael Connor, managing partner at CB Partners, a New York hedge fund.
Take Lumex (LUM), a leader in health-care and fitness equipment. In spite of the robust performance of the Dow, the stock is trading near its lows, at around 9 a share--down from more than 15 early in 1995. Why? Investors were disappointed that Lumex didn't sell one of its two major businesses some time ago to boost its stock.
Well, the new management that took over in September announced in mid-December that it would at last sell a unit, also called Lumex, that makes health-care equipment, including wheelchairs and specialty seating, and would focus energies on its Cybex division. But that still hasn't lifted the Lumex share price.
"Investors continue to ignore the stock," notes Connor. It trades below the book value of $11.58 a share. Partly for that reason, he and other pros are convinced that Lumex is a bargain.
"The stock is washed out because investors don't care--after two years of disappointments," says Connor. But he believes the shares are undervalued and are worth 20, judging from Lumex' assets and earning power.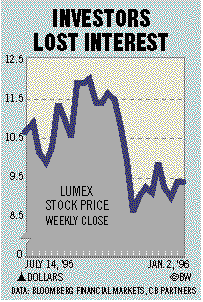 The Lumex division alone could fetch $8 a share, based on recent sales of similar outfits, figures Connor. He expects proceeds would be distributed among shareholders. The unit posted revenues of $61 million in 1994 and an estimated $65 million in 1995. The sale of Lumex and the accompanying restructuring are expected to produce a loss for 1995 and in the first half of the new year. But Connor expects earnings of 40 cents a share for all of 1996, mainly because the company will concentrate in bolstering the Cybex unit, which makes rehabilitation equipment. Its products are sold to physical-therapy clinics, hospitals, rehab centers, and other fitness facilities.
"Cybex will be a big winner as a stand-alone company," says one investment manager who also has been buying shares. Cybex, which produced revenues of $70.4 million in 1994 and an estimated $77 million in 1995, is expected to post $90 million in 1996 and $105 million in 1997, he says. Connor notes that no analysts cover Lumex now. "But they will soon wake up to the new Lumex."
Before it's here, it's on the Bloomberg Terminal.
LEARN MORE