Hunting Investors At A Tropical Pace...
Michael Collins
Australian businessman Malcolm L. Nutt discovered that, to start a seafood venture with the Kanak people of New Caledonia, he needed to become part of the tribal family. The October ceremony involved decorating two trawlers with palm fronds and bougainvillea, which were cast into the waters around the Belep Islands. A lunch followed, with speeches and hundreds of guests. "The chief said: `The waters are yours,"' recalls Nutt, manager of Sodexno, which aims to export scallops to Asia and later Europe. Nutt and his wife own 25%, the people of Belep, 50%, and the people of Poum, a village where processing will be handled, the remainder of the $1 million project.
This French snorkeling haven and military outpost 1,500 kilometers east of Australia enjoys one of the highest per capita incomes in the Pacific: $13,165 in 1990, the most recent figure available. Peugeots, Renaults, and Toyotas choke the streets, and yachts crowd the harbor in Noumea, the capital. But all of that rests on one export--nickel--and on aid: France supplies more than half the budget for this so-called overseas territory. New Caledonia is the world's third-largest nickel producer, with the metal accounting for about $350 million, or 80%, of export income last year. "The economy is very superficial," says George Borugu, economist at the South Pacific Commission, an international organization serving Pacific islands. "If you remove the spoon-feeding, there's just the nickel."
PUBLICITY BLITZ. In promoting other sectors, the territory's government--a high commissioner appointed by Paris and an elected Congress--has moved at a pace befitting a tropical paradise. The Economic Development Board of New Caledonia was created just last year to woo foreign funds into mining, tourism, seafood, and food processing. Lures include outright grants and 100% capital write-offs. The territory, whose main island is 400 km long and 50 km wide, boasts modern banking, transport, and telecom services, and a solid legal system. But its remoteness, a minimum wage topping $850 a month, and a small population of about 180,000 work against investment. The most promising project: Inco of Canada is spending $8 million to study a possible nickel-extraction plant that could cost $1 billion.
Tuna fishing and tourism also hold promise. Seven local trawlers and a maximum of 15 Japanese boats at any one time fish New Caledonia's exclusion zone of 1.4 million square km--equal to half the Mediterranean.
A publicity blitz is under way to attract tourists, whose numbers have hovered around 80,000 for the past five years (excluding cruise-ship visitors). On the plus side, French airlines have slashed fares, Noumea's first five-star hotel and second casino have just opened, and more hotels are going up. There's a problem, however: Tourists from Pacific nations are boycotting New Caledonia to protest the resumption of nuclear testing in French Polynesia. But that should blow over once testing stops.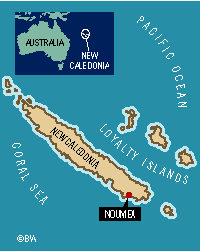 New Caledonia has one big worry: The Kanaks hanker for independence. At least 60 people were killed in political violence that started in 1984 and was settled four years later. The Matignon Accord mandates a referendum in 1998, but industrial unrest, especially wildcat strikes by Kanak-controlled unions, plagues the islands.
Still, the tension is tame compared with the 1980s, because the French have poured money into the Kanak community, which makes up about 45% of the population. Foreign investors appear relaxed about the referendum: The independence movement is prodevelopment. Kanak leaders talk of educating their people to ditch their take-it-easy style. "We only produce enough for our stomachs," complains Charles Pidjot, a leader of the Kanak Socialist National Liberation Front. So business may expect as warm a welcome in an independent nation as the one it enjoys now.
Before it's here, it's on the Bloomberg Terminal.
LEARN MORE