Hotels Call Them For Room Service
by
For Henry Silverman, 1995 was a great year. His company, HFS Inc. of Parsippany, N.J., saw its stock price triple. But Silverman, the largest single shareholder of HFS, isn't wasting time patting himself on the back. After becoming a dominant force in the hotel industry, he is setting his sights on the home-sales and -services business.
HFS is the franchisor of lodging chains such as Howard Johnson, Ramada, and Days Inn, as well as Century 21, the leading residential real estate brokerage brand. "We are a service provider...and our commodity is brand marketing and brand assurance," says Silverman. HFS provides franchisees with ad campaigns, reservation systems, training programs, and other support.
But in addition to getting a straight fee from franchisees, HFS negotiates deals with vendors such as AT&T and Pizza Hut that bring in additional revenue to both itself and the franchisee. Morgan Stanley & Co. analyst Neil Barsky, who has a "strong buy" rating on HFS's stock, uses the example of a traveler checking into an HFS hotel and taking advantage of a Pizza Hut coupon in the room. For every pizza ordered, HFS gets 50 cents and the franchisee gets 50 cents. The franchisee and HFS get extra income, the traveler gets their pizza, and Pizza Hut presumably gains market share.
Such programs have helped HFS's earnings achieve a 48% compound annual growth rate since going public in 1992. "The truly different thing HFS has done in lodging is to use their buying power to negotiate deals with so-called preferred vendors," says Michael G. Mueller, an analyst for Montgomery Securities. "It generates enormous cash flow and requires no capital spending."
ON THE PROWL. Silverman recently added to his stable of brands by agreeing to buy Electronic Realty Associates and its home-warranty business for $46 million. ERA will be managed as a brand separate from Century 21. But together, the brands have a 15% market share. And Silverman is on the prowl for other residential real estate brokerages.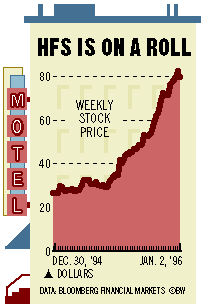 Silverman's career has not been without controversy. His history of rapid-fire dealmaking includes profiting from buying and selling the Days Inn chain a number of times. The first time was in the mid-1980s, when he was CEO of Reliance Capital Group, a venture-capital subsidiary of Reliance Insurance. In 1990, he became general partner of investment firm Blackstone Group, where he ran an $850 million buyout fund that was the genesis of HFS. In 1992, when part of HFS was sold to the public, Silverman became its chairman and CEO.
Judging from analysts' earnings estimates, HFS has a bright future. The consensus earnings estimate for 1996 is a 44% increase from 1995. For Silverman, 1996 could be another great year.
Before it's here, it's on the Bloomberg Terminal.
LEARN MORE