`Diversify' Is Still The Money Managers' Mantra
After the big U.S. runup in '95, foreign markets may lead in '96
Joan Warner
Global investors got a rude shock in 1995. The popular wisdom--that diversifying their assets around the world would maximize opportunities while reducing risk--didn't work. Instead, investors who sank all of their savings into a mutual fund indexed to the Standard & Poor's 500-stock index earned 33%, compared with an average 12.5% for sophisticates who put their money in funds composed of international stocks and bonds.
But many money managers are betting that 1995 was an exception. And the steep runup in U.S. stock prices has many investors chanting their mantra of global diversification more loudly than ever. "I think in 1996, the foreign markets will outperform, just because the U.S. did so well this year," says Sandor Cseh, chief international strategist for Boston Cos.
BONDS ABROAD. High valuations in the U.S. aren't the only reason global investors are reaffirming their multi-asset philosophy. While the Federal Reserve and Bundesbank both recently lowered short-term interest rates, the Bundesbank eased more. Further reductions are anticipated elsewhere in continental Europe, Canada, and Australia, where slowing economic growth has forced central banks to rethink their tight-money policies. And the Bank of Japan continues to pump money into an economy that has been stagnant for four years. That environment bodes well not just for many non-U.S. stock markets but also for overseas bond prices. "Investors are likely to find the best returns from non-U.S. bonds, especially in the European markets," says Gary Brinson, president of Brinson Partners Inc.
Indeed, some fund managers think the lower interest-rate picture for Europe merits an aggressive position in continental bonds. Take the $498 million Fremont Global Fund, which returned 19% through Dec. 28, 1995. Half of the 27% that manager Robert Haddick has designated for his global fixed-income allocation is in European government debt. He believes overseas bonds will match or beat the 29% appreciation the U.S. bond market saw last year.
But there's a big risk: a rise in the dollar could diminish the value of overseas holdings. To guard against a higher dollar in 1996, "investors need to understand that exposure to non-U.S. equities and bonds alike should be hedged," says Brinson, who manages $50 billion for institutions and mutual funds.
Hedging typically limits an investor's potential gains while setting a floor under possible losses. Still, Haddick estimates that 10-year government bonds from continental markets such as Germany, France, and the Netherlands should beat similar U.S. debt by at least two percentage points in the first half of 1996. On an annualized basis, he expects continental bonds to return 7% to 10%, compared with 5% to 7% in the U.S.
Some allocators are shifting their resources to capture the greater gains they expect overseas. But they are also maintaining a healthy exposure in the U.S., where many believe stock and bond prices still have room to run. Indeed, the best way to exploit the benefits of falling rates around the world may be to carve up a portfolio into fairly even slices of, say, U.S. or international stocks and bonds. That's the approach of the $895 million USAA Cornerstone Fund. Its prospectus specifies a 22% to 28% range for each asset class except gold, which is held between zero and 10%. "We're set up to stay diversified no matter what happens," says portfolio manager Harry Miller, who reviews his allocations once a quarter.
That disciplined strategy forces Miller to buy low and sell high, he says, since he must regularly replace high-flying securities that push an allocation beyond the 28% limit with less expensive ones. Cornerstone posted a 14% return for the first 11 months of 1995. For the current quarter, Miller has about 26% in U.S. stocks, where he thinks aerospace and chemicals still offer value.
Unlike Haddick, Cornerstone's Miller had put his nearly 23% international allocation entirely in equities. Now, Miller is betting on continental bourses--mainly Switzerland, Germany, Britain, and France--which he thinks will bounce as long-term interest rates fall. And he has a relatively heavy bet on Denmark, whose fiscal health wins his praise.
Many of Miller's counterparts share his enthusiasm for European stocks' attractive valuations. At prices that average five times projected cash flow, says Jean-Marie Eveillard, who runs the $2 billion SoGen International Fund, "continental Europe is half as expensive as the U.S." Eveillard believes that France, whose stock market was flat in 1995 amid mounting political and fiscal turmoil, represents a clear opportunity with risks already priced in. Brinson also mentions France as a prime candidate for a market recovery.
Besides Europe, asset allocators favor Southeast Asia as a region to comb for bargains. In emerging markets of the Pacific Rim, including Malaysia, Thailand, and Indonesia, Fremont Global's Haddick recommends liquid stocks such as banks and utilities. These stand to gain from lower inflation and falling interest rates and "are trading at the low to midpoint of their historical valuation ranges," he says. And John F.H. Trott, London-based chief international investment officer for Bessemer Trust Co., is putting the biggest portion of his 20% allocation of non-U.S. stocks in New Zealand and Australia. He believes industrial and banking shares there are better buys than the bigger, more commonly held resource stocks.
Trott, whose fund uses reasonable valuation as one of its stock-picking criteria, nevertheless is dedicating 45% of his portfolio to large-cap U.S. growth stocks. "Despite the rise of last year, we think there's still something more to go for," he says. Trott also recommends a sprinkling of small-cap niche stocks, with fewer technology names than in 1995.
SoGen's Eveillard agrees that the U.S. market has some buys left. He is loading up on paper and metals stocks as a play on emerging markets. He believes that as Asian economies build steam, their demand for raw materials will keep commodities prices heading upward for two to three years.
That's also why he has a relatively hefty 8% of his portfolio in gold. Explains Eveillard: "There's a supply-demand imbalance of more than 1,000 tons a year in gold," now trading at $385 to $390 an ounce. He thinks the price could go well above $500 if strong demand for jewelry continues in Southeast Asia as consumers there grow more prosperous. Besides classic mining stocks, Eveillard owns shares in Swiss-based Bank for International Settlements. A clearinghouse owned by major central banks, it has half of its assets in bullion.
TOKYO TURMOIL. Japan remains one area of disagreement among money managers. At Bessemer, Trott kept his funds completely out of the country in 1995, and for the coming year, he believes the market is still too expensive--even with the Japanese economy finally emerging from its recession.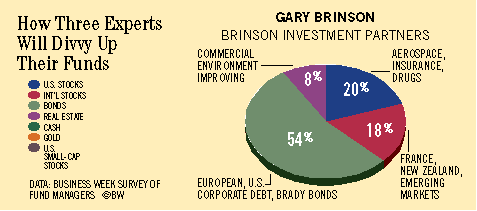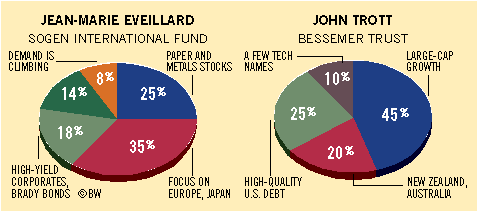 By contrast, Cornerstone's Miller thinks lower interest rates are setting the stage for better growth in 1996. And Eveillard, who bailed out of the Tokyo market before the bubble burst in '89, has started slowly rebuilding his position in Japanese stocks, which now make up 6% of his fund's total assets.
Such uncertainties, of course, are what have always made the case for diversification so compelling. The danger of a year such as 1995 is that it tends to raise investors' expectations. But history shows that whether they come from emerging markets or developed countries, 30%-plus returns rarely occur two years in a row in one place. That's why asset allocators are striving for a varied menu for '96.
Before it's here, it's on the Bloomberg Terminal.
LEARN MORE