Babes In Cyberland
Can Compaq turn the PC into a plaything for tots?
Gary Mcwilliams
With Christmas toys still cluttering bedrooms and dens, it hardly seems the time to be cooking up new ways to dazzle kids. But that's what personal computer kingpin Compaq Computer Corp. and preschool-toy giant Fisher-Price Inc. have in mind. On Jan. 4, the two planned to announce a line of new compu-toys that could turn the home PC into 1996's toy story.
The immediate goal of this big-name combo: Get the 18 million U.S. families with kids under age 7 to drop $150 each for computer attachments such as oversize keyboards and car-like controls that make a PC as accessible to the average 3-year-old as a jungle gym.
Long term, Compaq and Fisher-Price aim to keep moms and dads adding on to their investment. The companies are planning a stream of $40 adventure and learning programs that work with the companies' add-on keyboards and toy controls. "We hope to create a myriad of products and software that last for a long, long time," says Fisher-Price Chief Executive Byron Davis.
CHILD-SEAT DRIVERS. Analysts estimate that developing the new products could cost upwards of $15 million--before marketing costs. But if Compaq and Fisher-Price succeed, they will have helped redefine the home PC as much more than a home office machine. The compu-toys also may give Compaq a way to eclipse rival Packard Bell Electronics Inc. next year in home PC sales (chart). Compaq Chief Executive Eckhard Pfeiffer has pledged to make the company twice the size of its nearest rival by the end of the decade. To get there, though, Compaq must keep entering hot markets.
The first fruits of the Fisher-Price collaboration take aim at electronic educational aids and "edutainment" software. The $150 Wonder Tools Cruiser is a driving toy that lets a child use a throttle, steering wheel, and horn to navigate adventure programs such as Spruce Squirrel's Hiccup Mix-Up. The second attachment, a $130 keyboard, is geared to children's small hands. The add-ons, says Compaq Consumer Vice-President Celeste Dunn, couple existing PC learning programs with toys. "We're excited," says Toys `R' Us Inc. Chief Executive Michael Goldstein, who plans to carry them beginning this summer. Adds Compaq's Dunn: "We expect this to be a significant sector of growth for us."
It would be a surprise if it weren't. Shipments of electronic learning toys are growing at about 28% a year and were expected to hit $290 million in 1995, according to the Toy Manufacturers Assn. Sales of educational and reference software grew by 142% last year, to $600 million, according to researcher IDC/Link Inc. And software publishers such as Davidson & Associates Inc. rake in profit margins of 75% to 80% on titles such as Davidson's Ready For School.
PERIPHERAL VISION? Compaq isn't alone in its pursuit of the kiddie market. On Jan. 5, Packard Bell is due to launch its families group, dubbed Packard Bell Interactive. Toy retailers say IBM and Microsoft Corp. also are developing software and hardware releases this year. And game makers such as Sega Enterprises Ltd. are entering the market. Sega's Pico computer, which attaches to a TV, already sold well during 1995.
Together, though, Compaq and Fisher-Price believe they can stay ahead of the competition. Compaq is recruiting multimedia developers to build software for Wonder Tools, planning 14 titles this year and aiming to release new ones every six months thereafter.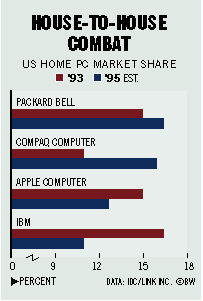 Not everyone believes the compu-toys will prove to be winners. "It's yet to be determined whether consumers will purchase software that requires the additional cost and installation of peripherals," says a Davidson spokeswoman. Compaq says the software runs on standard PCs, and the add-on toys simply make the programs more fun and interactive.
However this story ends, the Fisher-Price tykes are one of several audiences that Compaq is likely to chase through similar partnerships, says Richard Zwetchkenbaum, PC analyst at International Data Corp. "What it's doing here for 3- to 7-year-olds can be extended to teenagers, to working single moms, to the seniors market," he says. Let the games begin.
Before it's here, it's on the Bloomberg Terminal.
LEARN MORE