A People Express For The 1990 S?
Bill Hambrecht launches another no-frills, high-risk carrier
Susan Chandler
Taking fliers on Genentech Inc. and Apple Computer Inc. made William R. Hambrecht a fortune. When it comes to airlines, however, the co-founder and chairman of Hambrecht & Quist Group Inc., the San Francisco investment bankers, hasn't much to brag about. After H&Q underwrote the 1980 initial public offering of People Express Airlines, the stock soared. But the airline folded in 1986, and stockholders lost a bundle. Well, today Hambrecht has returned to the skies--and they are starting to look as cloudy as they were a decade ago.
Once again, Hambrecht is the underwriter and lead shareholder of an airline--and it's a virtual clone of People Express. It's called Vanguard Airlines Inc., and it's based in Kansas City, Mo., far from People's old Newark (N.J.) hub. But the differences pretty much end there. Like People, Vanguard is a low-cost, no-frills carrier, and it has some of the same executives--such as chief executive officer Robert J. McAdoo, who was chief financial officer of People. Like People, Vanguard has begun to encounter some turbulence--and Wall Street has taken notice. Vanguard's shares have languished in recent weeks (chart).
TOUGH ODDS. Does Vanguard have a better chance of success than its ill-starred predecessor? Hambrecht is hanging in there. "I decided to try it one more time," he says, "to see if it works." Still, the odds certainly aren't good. Nine out of ten start-up airlines fail within the first few years, and low-fare competition is much more fierce and widespread today than 15 years ago when People Express was launched.
Hambrecht vows that Vanguard won't be making the same mistakes as People, which expanded too quickly. He says the airline will stick to its knitting--low-fare, mostly short-haul flying in areas abandoned by some of the larger carriers. Its eight leased jets ply low-traffic routes such as Kansas City to Denver, where Continental Airlines Inc. closed its hub in 1994, and Dallas to Wichita, where American Airlines Inc. recently replaced its jet service with smaller, turboprop aircraft. "We end up doing things others don't find as attractive," says McAdoo, who believes Vanguard could expand to 35 or 40 airplanes in the next several years.
But so far, Vanguard has been doing more retreating than expanding. Only three months after starting nonstop service from Kansas City to Milwaukee, Vanguard pulled out, citing inadequate traffic. Dallas-Kansas City looked terrific until American met its fares. Minneapolis-Kansas City looked promising--until Northwest Airlines Inc. fought back. Again, Vanguard retreated.
McAdoo says Vanguard's changing route map is a sign of flexibility, not overambition. He is still pushing Vanguard into new markets, recently launching nonstop service from Kansas City to San Francisco, which is projected to bring in $20 million in revenues this year. "It's not worth spending our equity to compete with someone who can lose more in a day than the entire value of our airline," says McAdoo. But Michael J. Boyd, president of Aviation Systems Research Corp. in Golden, Colo., says Vanguard's rapid shifts show the airline isn't doing a good job of identifying opportunities. "They've been bouncing in and out of markets like a yo-yo," says Boyd.
The next 12 months will be critical to Vanguard's survival. The airline's $13 million equity cushion is dwindling. Vanguard had accumulated losses of about $10 million through the end of the third quarter, on revenue of $25.5 million, and was projected to lose another $2 million in the fourth quarter. But Hambrecht says the losses were anticipated and the worst is over. "We think they're going to make money in 1996. And assuming we don't buy a bunch of airlines, there should be plenty of cash." Still, any economic downturn or hike in fuel prices could easily defeat that rosy prognosis. Michael Lowry, president of AirWatch Report, a credit advisory service in the airline industry, says that although Vanguard isn't in immediate financial danger, it must start showing profits by the end of September if it is to survive next winter, the industry's slowest season.
But investors hoping to get in on the next ValuJet Airlines Inc., whose shares quintupled during 1995, are growing restless. Vanguard's stock price chart resembles the Denver airport--sharp peaks and then a flat, dull runway. The company's shares, after an initial runup, have stayed virtually flat after an initial flurry following its Oct. 31 ipo. At $6 a share, the company has a market capitalization of about $55 million. By contrast, when Western Pacific Airlines, a Colorado carrier, went public in December, its stock price rose from $19 a share to $25, giving it a peak market cap of about $250 million. "I'm miffed the market hasn't identified Vanguard's potential," says Cameron Burr, who bought shares along with his father Donald C. Burr, the driving force behind the creation of People Express. Don Burr, who is retired and not involved with Vanguard's management, declined to be interviewed.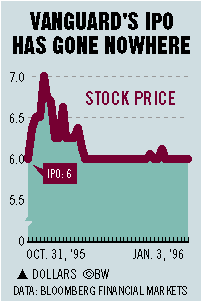 Some insiders say McAdoo's fierce aversion to spending, learned the hard way at People Express, may be holding back the airline. Vanguard certainly isn't throwing any money around at its cramped corporate headquarters, which is lodged on the mezzanine level of the Kansas City International Airport terminal where restaurants once were.
At least McAdoo's biggest shareholder says he's happy so far. Hambrecht, whose investor group controls 50% of Vanguard, says things are going so well that he's even looking at investing in one or two other airlines, possibly in Europe or elsewhere outside the U.S. But as his People Express experience has taught him, starting up an airline is a bit like piloting an aircraft: an aircraft whose wings have a way of coming off.
Before it's here, it's on the Bloomberg Terminal.
LEARN MORE