A Hot Item Called Heat
Icy weather is stoking the price of natural-gas futures
Greg Burns
Chicago steelmaker A. Finkl & Sons Co. could fuel its 35 blast furnaces with oil or electricity instead of the natural gas it now burns. Yet even as gas prices spiked up during the past two months, President Bruce Liimatainen has been sitting tight. "It's a short-term blip in the market," he says.
But what a blip: Futures prices doubled in the last six months of 1995, to $2.62 per million BTUs, including a 29% gain in December alone (chart). The contract for January delivery at the New York Mercantile Exchange shot up 15% in a day, when it expired on Dec. 21. A week later, prices for February delivery took off, closing at $2.99 per million BTUs on Jan. 3, up 14% in two trading sessions.
MERCURIAL. What's happening? Colder-than-normal weather, especially in the Midwest and the East, the nation's top gas-consuming regions. Heating requirements ran as much as 13% above normal in November and December--and gas suppliers were caught unprepared for the sudden surge in demand.
But the hot market in gas is not just a matter of mercury. The rally's seeds were planted last year, when many utilities and industrial users switched to gas from more expensive fuels to take advantage of prices that were about half today's. Usage soared 7.8% in the second quarter and 10.4% in the third. That limited suppliers' ability to salt away gas for winter.
When the cold weather came early, suppliers rushed to buy, paying a premium for gas that could be delivered quickly. With everyone chasing the same quarry, cash prices for gas soared in the Eastern half of the country--the weather in the West remained mild--and that pushed up futures prices on the New York Mercantile Exchange, the nation's principal market for natural-gas futures.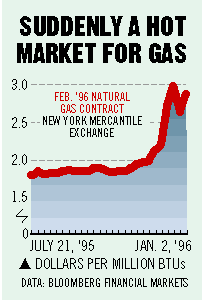 But at least two factors should put a damper on natural-gas prices. New York Merc officials have tripled the amount of margin money needed to trade futures--a move that tends to cool speculation. Perhaps more significant: Meteorologist Jon Davis of Smith Barney Inc. predicts the nation's coldest air will shift westward, which would reduce heating demand on the populous East Coast.
For Liimatainen of Finkl steel, there are some monetary costs as well as the management time and trouble associated with switching fuels. And those are costs users don't want to incur if they think gas prices will flag soon. "It does not take much," he explains, to send prices down--or up--as the market knows all too well.
Before it's here, it's on the Bloomberg Terminal.
LEARN MORE