Who Says You Can't Find Good Help?
Business-service firms boom as companies around the globe retool
Richard A. Melcher
On some recent continent-hopping business trips, George T. Shaheen, managing partner for Andersen Consulting, became thoroughly convinced that change knows no boundaries. The rage in China was all about restructuring and developing new markets. A Brazilian TV company was worried about how to compete in foreign countries. "It doesn't matter where you're doing business," says Shaheen, "everyone is going through a massive retooling." While that may be wrenching to many, for Andersen and other providers of business services, upheaval is a boon.
Business services--a new category in BUSINESS WEEK's Industry Outlook--encompasses legal services, advertising, personnel supply, research and consulting, accounting, engineering, architecture, and miscellaneous others, such as equipment rental and leasing. While their growth rates vary, all of these industries to some degree cash in on the continuing global trend toward seeking outside help. In 1996, predicts DRI/McGraw-Hill, business services will grow 3.5% after inflation, to $806 billion in 1995 dollars.
Consultants such as $4 billion Andersen should do far better than that. Andersen, which specializes in providing advice on systems and so-called change management, expects business to rise 20% for a second year and to add as many as 8,000 people to its workforce of 37,000. Meantime, Bain & Co. figures its business will jump 30% this year on the back of its "growth" consulting, which advises once shrinking clients how to grab market share and find new customers overseas.
TEMP FEVER. Business-service providers will take on jobs of increasing sophistication. Corporate layoffs will remain in the range of last year's 420,000 or so, figures outplacement firm Challenger, Gray & Christmas, so companies will continue to off-load everything from public relations to computer services. That will ensure a fourth year of strong growth for the temporary-help sector, which the National Association of Temporary & Staffing Services estimates has annual revenues of $40 billion (chart). "Temporary help used to be for emergency needs," says Manpower International Inc. Chairman Mitchell S. Fromstein. "Now, it's part of a company's ongoing workforce strategy." Fromstein expects Manpower revenues to be up some 15%--even higher than the industry's healthy 9% rise.
At Manpower, as at scores of other companies, growth is being fueled by demands for special skills. Today, Manpower is supplying computer programmers and systems integrators as well as clerical workers. Industrial-design specialists such as Boston's Design Continuum Inc. are working with clients from research to final production. In advertising, efforts to commercialize the Internet are providing golden opportunities for nimble upstarts. "The Internet will pose a major challenge for the big agencies," says analyst James D. Dougherty of Dean Witter Reynolds Inc.
WORK, WORK. Generally, though, size seems to be an advantage. As industries consolidate, companies turn to providers that can handle business globally. In the advertising business, where growth is expected to be nearly 8% thanks to election and Olympics spending, "it's increasingly difficult for midsize [advertising] agencies to compete," says Rochelle Lazarus, CEO of giant Ogilvy & Mather Worldwide Inc.
So look for the fragmented business-services sector to spawn plenty of mergers. Last year, EDS Corp. purchased A.T. Kearney for $600 million, marrying computer systems and engineering knowhow. This year, law firms are ripe for combination, says consultant Bradford W. Hildebrandt. While law firms are recovering from the depressed early '90s, Hildebrandt expects revenues to rise 10% in 1996, so regional, national, and even international mergers should be on the uptick. "We'll see global consolidation like we began seeing in accounting 10 years ago," predicts Hildebrandt.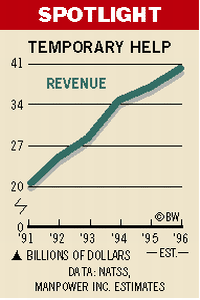 Other forces driving the mergers: difficulty in finding top professionals and pricing pressure from customers. More and more companies are demanding fixed fees from law firms. The outplacement industry has seen commissions on large contracts drop from as much as 17% per individual to about 10%, according to John A. Challenger. Yet across most of the growing services sector, "the No.1 risk and temptation" is to take on more work than firms have the ability to handle, say Bain's worldwide managing director, Thomas J. Tierney. For now, that's a hurdle most service providers are eager to attempt.
Before it's here, it's on the Bloomberg Terminal.
LEARN MORE