`Unexciting Might Be Good'
Few surprises in the oil patch. but with profits so healthy, who cares?
Gary Mcwilliams
The oil patch has made its peace with low prices. Relentless restructuring and cost-cutting are delivering strong cash flow and higher profits despite anemic pricing. Even in today's oil market, initial public offerings and secondary stock sales are letting small independents fund new production and property acquisitions without incurring debt.
Executives are prepared for more of the same in 1996. "We don't see many things out there that look any different to us than 1995," says Timothy C. Headington, chief executive of Headington Oil Co. in Dallas, a small crude-oil producer that has been steadily expanding with cast-offs from Exxon, Texaco, and others.
Most important, there's little evidence that prices will take a spill. Oil averaged $18.40 a barrel in 1995, and many forecasters expect it to remain there. "I see no reason for the 1996 numbers to change by more than 25 cents a barrel," insists Robert Gillon, senior analyst at market watcher John S. Herold Inc. What little encouragement exists is in U.S. natural-gas prices, which should recover to about $1.80 per thousand cubic feet--up from $1.48 in 1995. That would put them back around 1994 levels.
STEADY AS SHE GOES. The major oil companies should see their earnings rise a modest 6% in 1996, thanks to a healthy economy's thirst for more oil, says Frederick P. Leuffer, senior energy analyst at Bear, Stearns & Co. He foresees demand growing next year by about 2%. While hardly as robust as high tech, oils look like a safe haven. "It's lackluster and sort of unexciting right now," says Leuffer. "But unexciting might be good" were the Dow to reverse course.
There are a couple of iffy assumptions in this steady-as-she-goes outlook. The biggest is that OPEC, which has suffered a steady loss of world oil market share, continues to accept the losses. Some analysts are concerned that OPEC countries may attempt to regain share by boosting their production. Or that Iraq may return with significant new supplies. For now, neither seems likely.
Even if prices were to drop, restructuring and new technology have made U.S. oil companies more able to cope. The best are finding fresh ways of exploring and managing. A money-saving technique pioneered by Amoco Corp. and Royal Dutch/Shell Group: pooling their assets in low-profit production regions. The two are forming a joint company to merge West Texas and New Mexico operations--and slash overlapping costs.
3-D IMAGING. Technology continues to lower costs, too (chart). Vastar Resources Inc., a 1993 spin-off of Arco's U.S. oil and gas operations, says its exploratory wells now hit pay dirt 60% of the time--as a result of technologies such as three-dimensional seismic imaging--compared with only 47% of the time using older techniques. What's more, says CEO Michael E. Wiley, "I think there will be some creative ways [cost-cutting] can continue."
With expenses falling, prices don't have to rise much for production increases to flow straight to the bottom line. Next year's outlook is for a solid 7% rise in crude-oil production--with even higher increases for Texaco, Amoco, and Shell. Texaco, which hasn't boosted production for nearly a decade, predicts a 40% production rise within five years, thanks to rich prospects in the North Sea, Latin America, and China.
While petrochemicals were the big contributor to last year's heady profits at Phillips Petroleum Co. and Amoco, prices have softened--as supply has caught up with demand. The question now: Will China, a huge buyer that withdrew from the market in 1995, return in 1996? Bob Gower, chief executive at chemical maker Lyondell Petrochemical Co., predicts China's return could mean a second leg to the chemical boom. "All the information we have suggests we're not at the end of the cycle, but in a transition period," he says.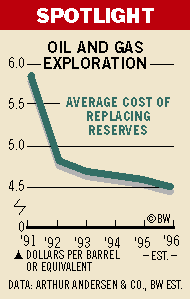 Retailing should continue to deliver profits, too. Continued reshuffling of gasoline outlets--as companies concentrate on specific markets--has turned the cyclical business into a reliable profit center. "We're seeing retail margins better than any time in history," says James E. Acridge, CEO of Giant Industries Inc., a Scottsdale (Ariz.) refiner and Southwest-area retailer. For years, stock analysts urged Giant to quit the business. No longer. "We're smart guys all of a sudden," he says. Stable prices and lower costs are making a lot of people look smart these days.
Before it's here, it's on the Bloomberg Terminal.
LEARN MORE