They're Having A Capital Time
Savoring solid demand here, machine makers also are expanding abroad
Zachary Schiller
Business investment has powered the U.S. economic expansion, and that has made machinery executives a bunch of happy campers. Shipments of industrial machinery and equipment were up 12% through October, 1995, from a year earlier, according to the U.S. Census, surging toward a likely record. Their plump backlogs almost guarantee another strong year. Says Jeffery T. Grade, chairman of Milwaukee's Harnischfeger Industries Inc., which makes equipment for papermaking and mining: "1996, when all is said and done, will be a very good year for most industrial manufacturers."
While growth and profits won't climb much in 1996, the gains come on top of a strong base. That's because U.S. manufacturing is itself in good shape--and companies are convinced that they must invest to stay that way. "All in all, people are concerned about productivity and being competitive globally," says Daniel J. Meyer, chairman of Cincinnati Milacron Inc.
A healthy U.S. market should be supplemented by faster market growth abroad. "Our biggest opportunity for [profit] leverage is the continued accelerated growth overseas," says Thomas F. McBride, chief financial officer at Ingersoll-Rand Co. He's especially hopeful for Asia and the Pacific. Ingersoll is looking to add three joint ventures in China to the three it already has there, including one that makes industrial air compressors and another producing rock drills for mining and road-clearing. ITT Industries Inc.'s Fluid Transfer Div. is putting a warehouse for its pumps in Santiago, Chile. Milacron, which just started making small injection-molding machines in a joint venture with an outfit based in India, hopes to be producing 600 there annually within a few years.
MASS APPEAL. More machinery makers are realizing they have to intensify global activities to keep their U.S. customers happy. "When a DuPont or a Dow says, `I'm building my next plant in China--I need you to step up your capabilities,' you've got to have mass to cover the world," says William M. Jordan, president of Duriron Co., a Dayton (Ohio) pump and valve maker. Partly with that in mind, Duriron recently bought seal maker Durametallic Corp.
Also fueling mergers--including Ingersoll-Rand's 1995 takeover of Clark Equipment Co.--is that stronger balance sheets have left more machinery makers in a position to make purchases. Indeed, there even have been some initial public offerings in the once beleaguered machine-tool business, such as a 1995 IPO by Hardinge Brothers Inc., a fast-growing Elmira (N.Y.) producer of lathes and machining centers.
Such has been the strength of machine-tool sales that the average age of U.S. metalworking equipment began falling in 1994 for the first time in 14 years. The rejuvenation should continue into 1996.
Even if demand dips next year for a number of machinery makers, existing orders will provide a cushion. For instance, Alton J. Brann, chairman and CEO of Western Atlas Inc., notes that an "exceptional year" of bookings means a good outlook for 1996 sales of its Industrial Automation Group. Its backlog for machining and other systems is up about 50% from the $415 million of a year ago.
There are some streaks of weakness in this rosy-hued picture. The same globalization that has U.S. executives rushing to expand abroad means they're facing more competition. And the same modernization that makes American manufacturers world-beaters in productivity often has led to increases in capacity that put a damper on prices.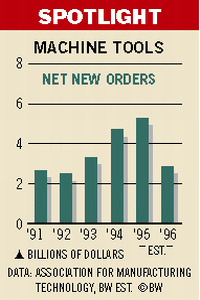 BUYING MOOD. What's more, there are spotty signs of a slowdown in demand. Manufacturers' use of their factory capacity fell from 85.1% a year ago to 83.1% in November, 1995. Orders for forklift trucks, industrial air compressors, and large plastic-molding machines have slowed in recent months. Demand from the auto industry may taper off, and 1995's sluggish housing market will probably mean at best a flat market for construction equipment this year.
Still, most machinery customers are in a buying mood. Such businesses as chemicals, paper, metals, and food should still spend smartly. Aerospace demand is finally rebounding. And one of the biggest stars is likely to be farm machinery. "The underlying fundamentals for farm equipment have never been stronger," says Ted French, chief financial officer of Case Corp., citing strong farm income and the lowest carryover of grain stocks in 30 years. For machinery makers, the wheels are turning for a solid 1996.
Before it's here, it's on the Bloomberg Terminal.
LEARN MORE