The Web Keeps Spreading
The new market should grow 100% and create even greater opportunities
Neil Gross
Netscape Navigator. Java. Yahoo. These pioneering products and services for using the World Wide Web--and their creators--stole the headlines in 1995. But Web software is still just a blip on the software radar screen. In 1996, Web-related programs--from browsers such as the Navigator to "firewalls" that protect corporate data--will be worth less than 1% of the $100 billion-plus global software market, says Hambrecht & Quist Inc. analyst J. Neil Weintraut (chart).
What the numbers don't show, however, is the subterranean shock wave the Web has sent across the software industry. Not only is the potential huge--with annual growth of 100%, sales of Internet programs could hit $4 billion in 2000, Weintraut reckons--but the rush of millions of PC users into cyberspace could change every aspect of the software business. The race to cater to cybernauts has unleashed the biggest epidemic of startup fever seen in years. And companies such as Microsoft, IBM, and Oracle are now scrambling to make the Internet part of their core strategies.
Once again, the software industry is exuberantly reinventing itself. Indeed, the Internet revolution comes as growth in other software categories is slowing. Sales of mainframe programs have been bumping along at single-digit growth rates, and Anthony Picardi, a group vice-president at International Data Corp., figures the $19.3 billion mainframe software market will grow less than 2% over the next four years, to $19.6 billion in 1999.
READY TO JUMP. The huge market for personal computer office "suites"--collections of programs that include spreadsheets, word processing, and presentation graphics programs--is also reaching saturation. But sales are poised for a 20% cyclical jump in 1996, as millions of PC users upgrade to Windows 95, predicts Goldman, Sachs & Co. analyst Rick G. Sherlund. The hottest market will remain software for so-called client-server computing--which should grow at 40%, he figures.
All told, says IDC's Picardi, the global market for packaged software--about 75% of it made in America--will grow 10% in 1996, to $102 billion. The number would be bigger if not for mainframe software, which makes up nearly 20% of worldwide sales. "Other industries would die for a similar growth rate," Picardi says.
And what about the new "Webware"? In 1995, businesses set up Web sites like periscopes, to see what was going on. This year, as they toy with the idea of electronic commerce across the Net, many companies will start using internal Web sites as windows into their own networks--creating "intranets." Says analyst Rich Edwards at Robertson, Stephens & Co. in San Francisco: "Every software company will have to participate."
No question, intranets are coming. Corporate computer managers increasingly see Web pages as a means to inexpensively publish and share information internally. This is very much what Lotus Development Corp. had in mind with Notes, a "groupware" program that helps teams of employees share documents or business applications simultaneously over a network. On the Net, much of this can be done on shared Web "pages"--for a fraction of what it costs to buy, install, and customize Notes. Lotus, acquired by IBM for $3 billion last summer, is furiously rejiggering Notes for the Net.
Meanwhile, Web software startups--including Netscape Communications Corp.--can cash in. Companies such as Cambridge (Mass.)-based Vermeer Technologies Inc. and OpenMarket Inc. should do a brisk business selling software that helps companies build and maintain Web sites.
The Web is also driving demand for new programming tools such as object-oriented software languages. Versant Object Technology in Menlo Park, Calif., ParcPlace-Digitalk in Sunnyvale, Calif., and Steven P. Jobs's NeXT Computer are tailoring their programs--which let programmers build software from reusable chunks of code--to run across the Internet. The upshot: Sales of object-oriented programs should double from this year's $300 million, according to IDC.
This explosion of Web activity has forced most software giants to rethink their game plans. Microsoft Corp. is building Internet links into all of its software products, from office suites to operating systems, and the software giant is licensing Sun Microsystems Inc.'s Java programming language. IBM has also made the Internet a priority: Big Blue has created an Internet software unit. Oracle is offering a family of Web programs, including a "browser" and Web versions of its database software.
One reason industry executives and analysts gush over cyberspace: It is one of the few domains where Microsoft is not dominant. A quick look at the packaged software market explains why that matters. Most of this year's growth in office suites will go directly to Microsoft, which owns about 90% of the $3 billion market. In addition, a large portion of multimedia CD-ROMs sold this year will be Microsoft titles. Goldman's Sherlund figures Microsoft's net will hit $2.2 billion in calendar 1996--up 20% over last year--on sales of $8.7 billion, up 16%.
SOUPED UP. Another place where Microsoft has not been able to dominate is client-server computing. In 1996, big corporations will continue to downsize their computer operations from mainframes to networks of servers--usually souped-up PCs or Unix workstations--and PC "clients." In the process, they'll pump billions of dollars into client-server databases from Sybase, Informix, and industry leader Oracle, whose sales will jump 40% in 1996, to $4.9 billion, predicts Sherlund.
Microsoft is far from discouraged in client-server software. A server version of Windows NT is replacing Unix on many corporate networks and the software giant expects strong sales in 1996 from its long-awaited relational database upgrade, called SQL Server 6.0. It is expected to sell for a fraction of the price of Oracle, Sybase, and Informix programs. And, Microsoft plans to package SQL Server with other server programs, such as systems management packages, and offer the bundles at steep discounts.
Mainframe software vendors have also hopped on the client-server bandwagon. Take Computer Associates International Inc. The Islandia (N.Y.) software maker's revenue from client-server software grew 79% in the first half of 1995 from a year earlier, while mainframe software sales--still 70% of the company--grew just 18%.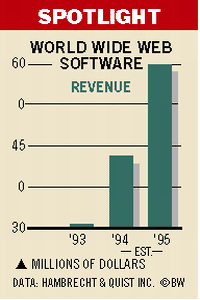 Continued corporate downsizing is another boon to software makers. Having already stripped away layers of middle managers, many large companies are trying to squeeze out further efficiencies. One way is to junk disparate computer systems that run various operating units. "Integrated enterprise software," supplied by the likes of SAP, Baan, and Oracle, does the job (box). Another way to boost efficiency: automating customer support. Newly public companies such as Vantive, Clarify, and Remedy have software that creates electronic files, or "cases," from each customer query or complaint. Later, anyone in sales, marketing, or customer support can call up the entire history of the transaction. Hambrecht & Quist's Weintraut figures sales of such "customer interaction systems," roughly $400 million in 1995, could grow to $3 billion by 2000.
Merger mania swept through software in 1995 and is likely to continue in 1996. Computer Associates bought Legent, IBM bought Lotus and, in December, SoftKey International Inc. pulled off a hostile deal to take over Learning Co. On Dec. 20, Informix Corp. bid for Illustra Information Technologies. But, with the Net spawning new startups every day, for every company that gets merged out of existence, two new ones are bound to appear.
Before it's here, it's on the Bloomberg Terminal.
LEARN MORE