The Patient Is Stable For Now
Health-care costs are in check, but the industry's upheaval isn't over
Keith H. Hammonds
A deceptive peace has descended on the nation's $750 billion health-care industry. There has been no word of a major health-maintenance organization merger for months. Hospital giant Columbia/HCA appears too occupied digesting the acquisitions of years past to indulge its unrelenting appetite. And once again, reform sits deadlocked on Capitol Hill.
But just wait: Beneath the surface, a revolution rages on. "The pace of change is stunning," says Dr. W. Allen Schaffer, head of managed care at CIGNA Healthcare Inc. "We have to reevaluate our strategic assumptions every six months." Managed-care plans snatched some 5 million Americans from their traditional health insurers in 1995, bringing total enrollment in HMOs to 56 million. Those are powerful numbers, and managed care now calls the shots. This year, it likely will force more consolidation than ever.
The industry, still fragmented and unwieldy, remains eminently ripe for restructuring. Even though health-care inflation has slowed, spending continues to edge upward as a share of the nation's economy (chart). Massive overhead associated with excess capacity remains, and "the only way to slow growth in health-care spending is to debloat the system," says John F. Hindelong, an analyst at Donaldson, Lufkin & Jenrette Securities Corp.
That process is under way. Indeed, employers saw their health-care costs drop in 1994 and remain flat in 1995 as millions of workers moved into cheaper managed-care plans. Employers' costs will probably rise slightly on average in 1996 as fewer additional employees switch to managed care, according to Foster & Higgins consultant John Erb.
TEAMING UP. The cost squeeze means more upheaval for doctors and hospitals. "The market works, but it is very painful," says Robert L. Montgomery, chief executive at Alta Bates Health System in Berkeley, Calif. Alta Bates, forced to hold managed-care charges flat for a third straight year, has joined a hospital consortium to amass a total of 600,000 managed-care patients--the better to negotiate with ever-larger HMOs. Even big, for-profit chains are looking at admissions increases of only 1% to 3% in 1996, says DLJ's Hindelong, though consolidation will help the sector lift earnings by 15% to 20% next year.
The motivation is irresistible: As of Dec. 15, 1995, the industry had seen a record 433 mergers and acquisitions, according to Securities Data Co. Increasingly, those mergers are crossing industry boundaries--producing new "integrated delivery systems" that put hospitals, doctors, nursing homes, and others under the same corporate roof. The object: one-stop shopping for managed-care companies, who require access to a broad array of services, says Coopers & Lybrand consultant Glenn A. Shively.
CRAWLING REFORM. At the same time, HMOs are themselves driving for size, market penetration, and efficiency. Growth certainly won't come from rate hikes: Even the better HMOs will win premium increases of just 1% to 2% this year, says analyst Kenneth Abramowitz of Sanford C. Bernstein & Co. Rather, the HMOs need new bodies. Many will see big revenue gains this year as more Medicare recipients move into managed-care plans--a shift that would accelerate if health-care reform succeeds.
And what of reform? Republicans and Democrats alike want to cut back on payments to Medicare service providers. And doctors and hospitals face an enormous hit from a proposed provision requiring payment reductions if total Medicare spending exceeds budget. The outlook for Medicaid is particularly cloudy--one reason many insurers are staying away from the business.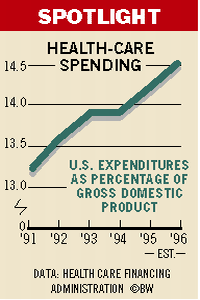 In any case, governmental change will prove, as always, far less powerful than the market-driven charge for critical mass and market muscle. The resulting shakeout will be dramatic. Industry executives suspect that Aetna Life & Casualty and CIGNA, both on the verge of shedding hunks of their property-and-casualty businesses, could spend huge sums to turn their middling health businesses into national HMOs.
Such new players, if well-conceived and adequately funded, could transform a compartmentalized industry that until now has fought its battles largely within cities or regions. "By the end of the decade, we will begin to see the endgame appear," says Gennaro J. Vasile, a longtime hospital executive who recently became head of Gemini Consulting Inc.'s North American health-care practice. And some fair hints should come even sooner.
Before it's here, it's on the Bloomberg Terminal.
LEARN MORE