The Media Circus Is Still In Town
Thrills and chills as global demand keeps the buying frenzy going
by
It has been more than a decade since television host Monty Hall looked behind that curtain for the last time. But in the frenzied media world, every day seems to be a rerun of Let's Make a Deal. Walt Disney Co. plunked down $19 billion in stock and cash to buy Capital Cities/ABC Inc. Westinghouse Electric Corp. bought CBS Inc. News Corp. Chairman Rupert Murdoch jumped on the Internet, launched a sports channel to rival ESPN, and then made plans to beam TV signals to Latin America. And in cable? Last year, a staggering $25 billion in deals were struck, as nearly one in five subscribers saw their cable companies change hands.
In 1996, the media dealmaking won't be confined to the TV and movie businesses. USA Today publisher Gannett Co. is still on the prowl after completing its $1.7 billion purchase of Multimedia Inc. Other publishing deals may be in the offing. Spurring on the activity is an unquenchable worldwide thirst for American-made movies and TV programs--and a surprising rebound in Americans' appetite for the printed word.
Programming and distribution entities will keep getting married in 1996--programmers to ensure an outlet for their works, distributors to fill their pipelines. General Electric Co. is likely to go shopping for partners again this year, after failing in 1995 to persuade Disney to buy a half-interest in its NBC Inc. unit. Possible candidates: Seagram's MCA subsidiary, which includes Universal Pictures, or Sony's Hollywood-based studios. Microsoft Corp., a partner with NBC in an on-line news channel, could also be a bidder. After buying CBS, Westinghouse is still looking to bolster its programming and could strike an alliance with a Hollywood studio as well. "The idea is to protect yourself from being shut out as the big get bigger," says Merrill Lynch & Co. analyst Jessica Reif.
NET GAINS. Propelling the movement toward bigness in 1996 is the expected passage of the long-awaited federal telecommunications bill. Among other things, the legislation would immediately allow cable and telephone companies to compete in one another's markets and gradually raise ceilings on the number of radio and TV stations a company can own. That should prompt a new wave of acquisitions, says Gene F. Jankowski, managing director at Veronis, Suhler & Associates Inc., a New York investment bank. Among those rumored ready to sell is billionaire Ronald O. Perelman, whose New World Entertainment Inc. broadcast and production company is loaded with debt.
Media companies will benefit in 1996 from a robust advertising market that for the third year running should outperform the overall economy. Boosted by the Olympic Games in Atlanta and U.S. political campaigns, domestic advertising in all media should grow by 7.8%, to $174 billion, predicts Robert J. Coen, a senior vice-president at ad agency McCann-Erickson Worldwide. The four major broadcast networks will be among the biggest winners, with a projected 12.5% increase, to $13 billion.
NEW SYSTEMS. The ad increase isn't the only good news for network television. After losing audiences to cable and syndicated programming for years, the number of sets tuned into the networks will stabilize in 1996 at roughly 64% of those viewing TV, predicts Veronis Suhler. But not every network will survive. Time Warner Inc.'s struggling Warner Bros. network will likely seek a merger with startup UPN, a joint venture of United Broadcasting and Viacom Inc.'s Paramount Pictures Corp.
Cable television, meanwhile, will seek growth by adding services rather than subscribers. After adding 9 million subscribers over the previous five years, the industry's customer base will grow by roughly 1 million in 1996, according to Veronis Suhler. To maintain the cash-flow growth, cable companies will need to build systems to battle the telcos, and many cable companies will introduce modem services for high-speed data transfer later in 1996. Other companies, such as Tele-Communications Inc., will move aggressively overseas into markets with greater potential to add subscribers.
Foreign companies--which have sat on the sidelines since the disastrous foray of Japanese companies in Hollywood--will also reemerge on the American media scene. The sale of Tur-ner Broadcasting System Inc. to Time Warner alerted many of them to the dwindling number of companies available to fill the Information Superhighway with films and TV shows. Dutch electronics giant Philips' PolyGram entertainment unit will aggressively seek an acquisition. So might German media powerhouse Bertelsmann, which recently opened a flashy Los Angeles headquarters. One likely target is MGM/UA, which is rising from the ashes with such films as GoldenEye and Get Shorty. The studio's owner, French bank Credit Lyonnais, recently hired investment bankers Lazard Freres & Co. to sell off the studio.
PAPER PROFITS. Other bidding wars will feature Sony Corp.'s Los Angeles film unit and Thorn EMI's record division. Murdoch is a possible bidder for EMI. So is Disney, which has a small record company with few stars. The biggest bidding war, however, could center on Sony. After parting ways with U.S. CEO Michael P. Schulhof, Sony is likely to try unloading a piece of its film company. Sony insiders say Murdoch has expressed interest. Investment bankers say GE is eager to line up more content for broadcasting. And, despite his frequent denials, Microsoft Chairman William H. Gates III may also be interested.
Hollywood production will increase in 1996 to satisfy the booming foreign market and domestic cable operators. The year will feature more than the usual numbers of retreaded oldies. Universal Pictures, with fresh capital from new owner Seagram, will churn out films based on old TV shows McHale's Navy, Flipper, and Sergeant Bilko. Tom Cruise will headline a film version of Mission: Impossible from Viacom's Paramount Pictures unit.
The newspaper business lacks Hollywood's glitz but had a marquee year in 1995, with earnings gains of 14.8% at 11 big newspaper publishing companies, according to Donaldson, Lufkin & Jenrette (DLJ) Securities Corp. McCann-Erickson's Coen says that in 1996, advertising revenue will increase by a modest 5.5%, to $4.25 billion, down from an 11% rise through the first nine months of 1995. That will dampen industry earnings growth to an average of 6.5% in 1996, DLJ says.
Those kinds of returns don't satisfy many newspaper publishers, who say they need to make drastic cost reductions to ensure their long-term health. "We're starting to see a little breathing room, but not an awful lot," says Mark H. Willes, Times Mirror Co.'s new CEO. In 1995, Willes cut hundreds of jobs at the flagship Los Angeles Times and closed the New York City edition of Long Island-based Newsday.
Still, newspaper companies are hardly turning their backs on their printing presses--high paper prices and the Info Highway notwithstanding. Evidence of that is Gannett's purchase of Multimedia. Also, in 1996, The New York Times will launch a Northeastern edition, while the Los Angeles Times will revive plans to distribute its paper in Washington, D.C.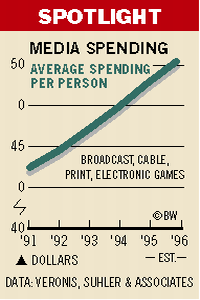 Why the newfound optimism? For one thing, readership of newspapers is up as the number of Americans 35 and over expands. Those demographics will also help book and magazine publishers. In 1996, a slew of new specialty magazines will likely hit the newsstands. Century 21 Real Estate Corp., for instance, will launch a new home magazine with Hachette Filipacchi Magazines Inc. Book publishers intend to expand their lines to fill the shelves of book superstores and discount chains. Hearst Corp. will soon launch its first hardcover line for adults. Even MTV will have its own book line, geared to the under-35 crowd.
Which media companies will strike the audience's fancy in 1996? That's hard to say. But these days, if you can't produce a hit you can always buy the hitmaker.
Before it's here, it's on the Bloomberg Terminal.
LEARN MORE