Telecom: What Happens When The Walls Fall
Once reform passes, a frenzy of pair-ups is sure to follow
Joseph Weber
They might as well be ringing a starting bell on the Capitol steps. Washington's long revamp of telecommunications law is just about finished. The message most telecom companies hear ringing loud and clear: Let the deals begin.
On Dec. 20, House and Senate conferees finally hammered out a compromise that would allow Baby Bells, cable-TV operators, and long-distance companies to invade one another's turf. It would also permit companies to own more radio and TV stations than is now permitted. Thorny details, such as how much to relax curbs on foreign ownership of U.S. companies, remain to be determined. But says Representative Rick Boucher (D-Va.): "All the core issues have been settled. This will be landmark legislation."
Once the bill is passed, probably by early 1996, a swarm of mergers, alliances, and joint ventures seems inevitable. That's because most of the rigid regulatory barriers between segments of the industry will be gone. Now, says Robert Barada, chief strategist for San Francisco-based Baby Bell Pacific Telesis Group: "Technology and customer demand are going to break down the walls."
"LOOKING." Which companies are likely to pair up? Bell Atlantic Corp. and Nynex Corp. may be among the first, either through a complete merger or--more probable--a joint venture on long-distance service. Bell Atlantic CEO Raymond W. Smith and Nynex chief Ivan Seidenberg already have joint ventures going to provide cellular phone service and, with PacTel, develop programming for cable TV. Indeed, a Bell Atlantic spokesman calls a long-distance joint venture with Nynex "a real option." Adds Nynex Telecom Group President Richard A. Jalkut: "We are looking at all possible combinations."
Teaming up to challenge AT&T, MCI Communications, and Sprint in the long-distance market would make good business sense for the two Northeast Baby Bells. The Bell Atlantic and Nynex regions account for $20.5 billion of the nation's annual $73 billion long-distance bill (charts). A merger would give the two Bells the marketing and technical firepower needed to compete for customers. Just pooling their ad budgets--Bell Atlantic alone spends about $105 million yearly on all advertising--would challenge the $1 billion the Big Three long-distance carriers spend promoting their phone services.
Who's next? Analysts expect each Baby Bell to eventually link up with at least one other. Among the predicted pairings: Pactel and US West, San Antonio-based SBC Communications and BellSouth, and, perhaps, Chicago-based Ameritech with Bell Atlantic and Nynex. GTE Corp., with phone lines scattered around the country, is expected to find allies, too. Among other things, partnerships would help the Bells better tap international markets. Team-ups of Southern Baby Bells, for instance, could move into Latin America, while Western outfits could target the Pacific Rim.
CULTURE CLASH. Long-distance providers, too, should find dealmaking irresistible. Pacts with the Baby Bells would eliminate the need to duplicate local networks while providing potent marketing partners. Analysts say MCI Communications Corp. is a natural ally for a Bell Atlantic-Nynex team, for instance. But long-distance carriers are looking further afield as well. Since late 1994, Sprint Corp. and cable operators Tele-Communications, Cox Cable, and Comcast have been exploring ways to leverage phone and cable-TV operations into advanced communications systems. One caveat: A couple of years ago, Bell Atlantic sought to merge with TCI in a failed deal that confirmed Smith's empire-building aspirations. That failure showed how tough it can be to join the go-go cable world with the more conservative Bells.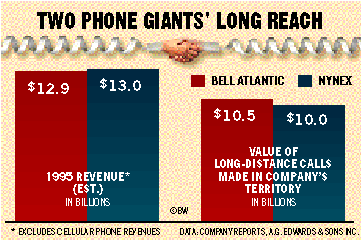 Another caveat: Analysts figure AT&T will probably avoid cutting deals with Baby Bells because it won't want to be accused of recreating Ma Bell. It may team up instead with, say, Time Warner Inc.--already a rumored negotiating partner--to use cable lines for local phone service. That would dramatically blur the old lines between segments of the telecom industry--and set the stage for even more radical change. The deals to come will be "complex, multifaceted, multidimensional things," says Tony Ferrugia, a telecom analyst at A.G. Edwards & Sons Inc. in St. Louis.
In the end, the rewired telecom biz probably will include far fewer players who will deliver better service and offer bold innovations. Ma Bell won't exactly be coming back together after 12 years, but some of her offspring almost certainly will.