Silicon Goes From Peak To Peak
In a boom that could last a decade, turning out enough chips is the big problem
Robert D. Hof and Otis Port
For the companies that plant those teensy transistors on the silicon chips from which personal computers and other electronic gadgets sprout, 1996 shapes up as the fourth consecutive year of 20%-plus growth--26%, according to the Semiconductor Industry Assn. That's remarkable. Chipmaking has long gyrated through boom-and-bust cycles every three years or so. And while growth in 1996 won't match 1995's spectacular 40% sales jump, analysts still look for chipmakers to post per-share earnings gains averaging 29%.
The outlook is for steady growth until 2000, and perhaps beyond. "There's going to be a black hole for computing power for at least a decade," says Gordon A. Campbell, chairman of startup 3Dfx Interactive Inc., which makes chips that accelerate onscreen graphics for multimedia PCs. The optimism isn't limited to Silicon Valley entrepreneurs. Vladi Catto, chief economist at Texas Instruments Inc., says the industry might expand by 20% a year for the next two decades. By comparison, since TI made the world's first microchip 36 years ago, the industry has averaged 15% annual gains.
OFF THE ROLLER COASTER? To be sure, not every sector is booming. The growth rate for multimedia PCs seems to be slowing, for example. No matter. Most chipmakers won't be able to satisfy demand anyhow unless the whole PC business falters. "The rate at which semiconductors are going into [a widening profusion of products] has just skyrocketed," says G. Dan Hutcheson, president of chip watcher VLSI Research Inc. This ever-expanding base of customers means producers are becoming less vulnerable to a hiccup in any one market, adds Jean-Philippe Dauvin, chief economist at European chipmaker SGS-Thomson Microelectronics. That's a key reason why the industry believes its roller-coaster cycles are a thing of the past. While chipmakers can't escape broad economic swings, these ups and downs will be a merry-go-round ride by comparison.
Because PCs remain the main engine boosting silicon's rocket for now, the immediate beneficiaries will be the makers of dynamic random-access memory (DRAM) chips and, of course, Intel Corp. New PCs gobble two to four times as much memory as older models, so DRAM shipments could soar 40% this year. As for Intel, look for the microprocessor king to sell 25% more "brain" chips this year than in 1995.
Despite fatter sales, Intel cautions that its incredible 55% gross margins could shrink, because of its rapidly growing business in PC motherboards and plug-in boards. On the other hand, some analysts say Intel's profits could actually improve. Its chip sales are shifting dramatically from 486 microprocessors to higher-priced Pentium models (chart), and Intel may pare prices less aggressively. That's because up-and-coming microprocessor rivals such as Cyrix and NexGen--soon to become a division of Advanced Micro Devices--aren't cranking out enough chips to cramp Intel's style. Advanced Micro Devices Inc. recently said its fourth-quarter profits would fall short because it isn't grabbing as much 486 business from Intel as it hoped.
NexGen Inc. and Cyrix Corp. are hardly the only companies facing a capacity squeeze. In fact, lack of capacity will rob the chip industry of several percentage points of potential growth this year. "Everybody's straining just to get enough fabs out," says Ray Stata, chairman of Analog Devices Inc. "Fab" is chip-speak for wafer-fabrication plant, the squeaky-clean factories that make semiconductors.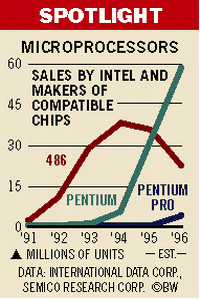 Scarce capacity means continuing pain for the fabless companies that often design the industry's leapfrog chips. To guarantee production of their next wonder circuits, several fabless companies are buying into chip producers. Cirrus Logic Inc., the biggest fabless company, plans to spend $2 billion over the next five years. Part of the money will go for a 15% stake in United Silicon, a new chip factory in Taiwan.
Wafer fabs now cost as much as $1.3 billion each, and the industry will need to pour the foundation for a new one every week, figures TI's Catto, if chips are to reach the $331 billion level predicted for 2000 by market researcher Dataquest Inc. However, until investors share the industry's newfound confidence that chips have outgrown their boom-and-bust days, the stock market could gum up Dataquest's long-range timetable. Absent that, the silicon horizon has a bright golden glow.
Before it's here, it's on the Bloomberg Terminal.
LEARN MORE