Robust And Ready To Brawl
Drugmakers are flush, so more mergers--even hostile ones--may be on the horizon
Joseph Weber
With stock prices setting records and earnings climbing at double-digit rates again, pharmaceutical executives are heading for maybe their best year since the roaring '80s. More unit sales, more freedom to raise prices, and savings from restructurings are hypercharging growth. "We're not in the doldrums of the early '90s anymore," says Robert L. Andrews, a Deloitte & Touche managing director.
Heavy margin pressure, sharp staff cuts, and deep discounting are fading as fast as memories of President Clinton's election-year attacks on drugmaker price-gouging. For 10 leading U.S. and European drugmakers, net income this year may rise as much as 12%, to $18.6 billion, while sales climb 8%, to $106.2 billion, estimates Cowen & Co. analyst Stephen Scala. The healthiest companies could repeat 1995's 20% earnings gains.
Yet execs can't afford to be complacent. Mergers have reshaped the industry, and more may be on the way. The biggest companies gain an edge in funding research and development, bargaining with managed-care buyers, and competing globally. By mid-December, the industry had tallied $41.2 billion in deals, up from 1994's record $36.1 billion, according to Windhover's directory, 1995 Health Care Strategist.
TWISTED ARMS. Foreign buyers set the pace in 1995, led by Glaxo Holdings' record-breaking $14 billion purchase of Burroughs Wellcome, Hoechst's $7.1 billion acquisition of Marion Merrell Dow, and the stock-for-stock merger of Upjohn and Pharmacia, valued at $7 billion. Hostile deals, such as Johnson & Johnson's $1.8 billion takeover of Cordis, a maker of cardiology devices, could bring an unwilling partner or two to the altar this year. Says Brown Brothers Harriman & Co. analyst Neil B. Sweig: "The white gloves are off."
Who's next? Industry titans Bristol-Myers Squibb Co. and Eli Lilly & Co. figure prominently in Wall Street speculation as potential acquirers of the midsize likes of Monsanto Co.'s Searle & Co. unit or perennial merger target Warner-Lambert Co. Well-heeled Swiss drugmakers Ciba-Geigy Ltd. and Sandoz Ltd. also make likely buyer lists. Japanese drugmakers, whose stockholders are wrestling with tough times generally, could be alluring to global buyers.
Acquisitions aren't always the right tonic. Merck, SmithKline Beecham, and Lilly are still chasing a payoff from pharmacy-benefit managers, the distribution operations for which they together have paid $13 billion since 1993. At the same time, Rite Aid Corp. and other drugstore chains are building competing units. After shelling out $6.6 billion in 1993 for Medco Containment Services Inc., a big benefit manager, Merck & Co. has turned cool toward all kinds of mergers. Says CEO Raymond V. Gilmartin: "Major acquisitions would be a diversion for us."
STICKER SHOCK. Acquisition fever may be tempered, too, by slightly more pricing freedom. "Companies are less inclined to give discounts and reduce prices," says Wayne P. Yetter, chief executive of Astra Merck Inc. Indeed, some prices--chiefly to retail drugstore buyers not covered by insurance plans--have been climbing faster than inflation.
The industry's financial health conceals a shortfall of novel blockbusters. While drugmakers squeeze ever more sales out of big producers such as cholesterol-fighters and antidepressants, few have offered truly new potential $1 billion sellers recently. One likely exception: the osteoporosis treatment Fosamax, a drug from Italy's Istituto Gentili being marketed by Merck in the U.S. Another potential big winner is J&J's Risperdal, a schizophrenia treatment.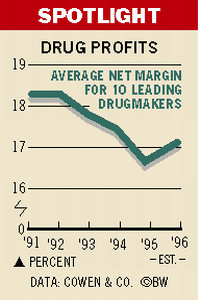 Drugmakers aren't helping their cause by limiting R&D. The Pharmaceutical Research & Manufacturers of America says the 8% growth in industry R&D spending in 1995 was the lowest in more than two decades. "I worry that by reducing the rate of increase in research, we are going to reduce the opportunities" for new drugs, says Schering-Plough CEO Richard J. Kogan. He says his company will outpace its peers in 1996, boosting its $650 million in R&D spending by more than 10%.
R&D cannot be neglected. Pfizer Inc. credits new drugs for boosting its net income an estimated 20% last year, to about $1.6 billion, on a 23% rise in sales, to $10.2 billion. This year, analysts expect Pfizer to nearly match that growth. Luckily for Pfizer's competitors, this won't be the year they'll have to pay for underinvestment. There's enough right with the drug business that there will be plenty of gains to go around.