Repackaging The Post Office
Facilities are getting face-lifts, clerks are getting friendlier
Mark Lewyn
When retired CIA analyst William R. Dodge stopped at Furr's supermarket in Albuquerque on Dec. 22, his shopping list included butter, chocolate chips, nuts, and postage stamps. Stamps? Sure. Overnight delivery, too. The Albuquerque facility is one of eight that the U.S. Postal Service recently has tucked inside popular retail outlets around the country.
The new offices are just one sign that the USPS is trying to reinvent itself. Aside from opening facilities in outlets such as Furr's and Kmart, it is sprucing up old offices and improving customer service. Stamps--including new, self-adhesive ones--can now be purchased at ATMs, by phone, and with credit cards. During the holidays, sales clerks directed traffic and branch hours were extended. Workers even dressed as Santa to deliver Express Mail.
Why the changes? After all, the agency is flush from last year's rate hike, higher mail volume, and better cost controls and cash management. Postmaster General Marvin T. Runyon says he ended fiscal 1995 with a record surplus of $1.77 billion on revenue of $54.3 billion. But in many markets, the Postal Service is losing out to private carriers and new technologies such as fax machines (chart). "We just can't sit here and say to people, `Here are our hours and, if you feel like it, bring your mail to us,"' says Runyon. "We need to get [market share] back."
The new approach was evident over the holidays. Runyon hired 40,000 part-time workers to sort mail, leased 116 planes to carry it, and set up a command center in Washington to make sure it got through. The effort seems to have worked: On Dec. 20, 1995's busiest mail day, the service delivered a record 725 million pieces of mail, up 6% from 1994.
To publicize the reforms, Runyon hiked his ad budget 50% in 1995, to $143 million. Last fall, he also hired Loren E. Smith, a former Citibank executive who did stints at Kraft General Foods Inc. and Colgate-Palmolive Co., to oversee marketing.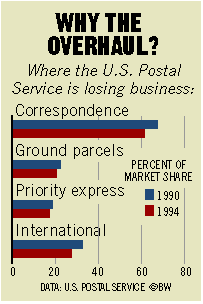 At the heart of the new strategy are the new postal "stores." So far, 200 of the 40,000 local offices have had face-lifts that include attractive lighting and salesclerks trained to be friendly and helpful. It's looking good: On average, the new shops have posted 20% sales gains over the offices they replaced. Now, Smith is stepping up the pace--all postal facilities in Albuquerque and Atlanta are getting makeovers. Philadelphia; Columbus, Ohio; Boston; and Richmond, Va., are next. New services include phone debit cards and a "Pack-and-Send" wrapping service.
Shoppers who endured surly postal service and long lines over the holidays likely are skeptical of such reforms. But Runyon knows he has to make the strategy work--or see a lot less mail with a USPS postmark.
Before it's here, it's on the Bloomberg Terminal.
LEARN MORE