Positives
-- Low interest rates have lightened debt loads.
-- Delay in deregulation is allowing utilities more time to prepare.
-- Demand for power is rising, and capacity is ample, so there's no need for costly construction.
Negatives
-- Demands by big customers for lower prices are hurting margins.
-- High-cost utilities face a bleak future in
-- deregulated world.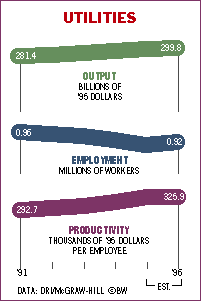 Before it's here, it's on the Bloomberg Terminal.
LEARN MORE