Prognosis '96 Transportation
Positives
-- Airline capacity should grow more slowly than traffic, meaning fuller planes and higher fares.
-- Railroads are boosting productivity with computerization and faster locomotives.
Negatives
-- Airlines will be hard-pressed to win cost reductions from labor when profits are soaring.
-- The trucking industry is suffering from excess capacity.
-- Railroads have yet to sign contracts with about a dozen unions.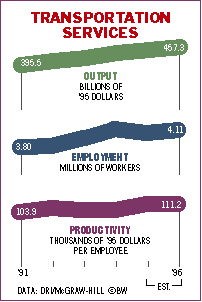 Before it's here, it's on the Bloomberg Terminal.
LEARN MORE