Positives
-- Windows 95 will spark demand for educational, entertainment, and business software.
-- Businesses are rushing onto the Web, spawning markets such as digital commerce.
Negatives
-- Diversity in desktop software will shrink as Microsoft's clout grows and Apple's shrinks.
-- Heavy discounting of software suites--and growing development costs--will make life harder for small players.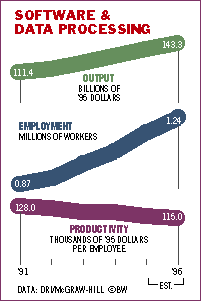 Before it's here, it's on the Bloomberg Terminal.
LEARN MORE