Prognosis '96 Semiconductors
Positives
-- PCs continue to boom, driving sales of memory chips and Intel's Pentium microprocessors.
-- Use of chips in a growing variety of products will smooth the traditional boom-and-bust cycles.
Negatives
-- Capacity shortages could hurt producers of memory chips and chipmakers that contract out.
-- Investor jitters about possible market slowdowns could sink stocks and limit chipmakers' investing in new plants.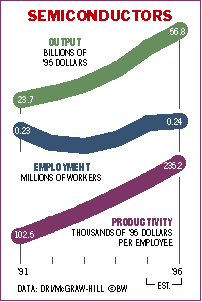 Before it's here, it's on the Bloomberg Terminal.
LEARN MORE