Positives
-- The soaring stock market is boosting the brokerage business.
-- Mergers, acquisitions, and IPOs should remain strong.
-- Congress may cut capital-gains taxes and restore deductibility of IRAs.
Negatives
-- Brokerage stocks are due for a correction after their big 1995 runup.
-- Overcapacity in the industry will keep restraining margins.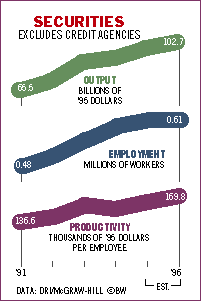 Before it's here, it's on the Bloomberg Terminal.
LEARN MORE