Prognosis '96 Real Estate/Construction
Positives
-- The office sector will continue to recover, thanks in part to strong demand by high-tech companies.
-- Upscale hotels should enjoy rising room rates and healthy occupancy levels.
Negatives
-- Some shopping centers will feel the squeeze from a sluggish retail market.
-- With apartment construction still picking up steam, some Sunbelt markets may already be overbuilt.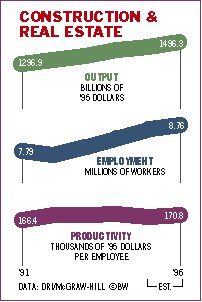 Before it's here, it's on the Bloomberg Terminal.
LEARN MORE