Prognosis '96 Pharmaceuticals
Positives
-- More providers are using medicine instead of surgery or psychotherapy.
-- Pressure against price hikes is easing, helping broaden profit margins.
-- Wider uses are being found for big sellers such as cholesterol-reducers.
Negatives
-- With few new blockbusters, drugmakers will battle to sell more of what's already in the medicine cabinet.
-- Merging companies are jeopardizing their futures by cutting R&D.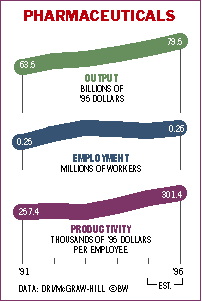 Before it's here, it's on the Bloomberg Terminal.
LEARN MORE