Prognosis '96 Media/Entertainment
Positives
-- The Olympics, the election, and a revived economy should increase TV ad revenue by about 8%.
-- Telecom deregulation will spur a burst of investment by phone companies in cable TV.
-- Foreign demand for U.S. entertainment remains strong.
Negatives
-- Technology disappointments will slow adoption of interactive TV.
-- Smaller players may be shunted aside.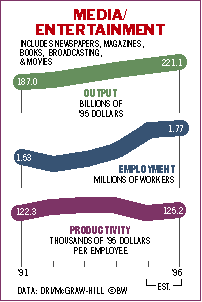 Before it's here, it's on the Bloomberg Terminal.
LEARN MORE