Prognosis '96 Health Care
Positives
-- For-profit hospitals should continue to gain market share and see admissions rise modestly.
-- Well-managed nursing homes will pick up business as hospital stays continue to shrink.
Negatives
-- Rising cost pressure from managed care, plus lower Medicare and Medicaid rates, will keep a squeeze on margins.
-- Health-care reform hasn't addressed the uninsured, who will put an even greater strain on the system.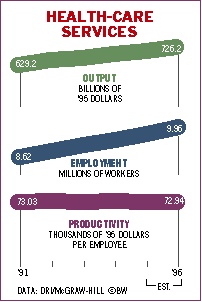 Before it's here, it's on the Bloomberg Terminal.
LEARN MORE