Positives
-- Consolidation moves forward: Look for at least one more mega-merger and continued capacity reduction.
-- Modest growth in the Pentagon's procurement budget is likely, while overseas sales could strengthen.
Negatives
-- Profit margins will be squeezed as stingier contracts kick in. The lucrative B-2 bomber and F-22 fighter programs may be stretched or killed.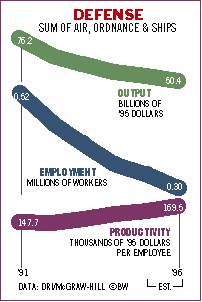 Before it's here, it's on the Bloomberg Terminal.
LEARN MORE