Positives
-- As computers get cheaper, they will become even more central to the economy.
-- Electronic commerce is fueling demand for high-capacity Web servers.
Negatives
-- Standardized parts and designs will gnawat the profitability of midrange and large computers.
-- Personal-computer makers will feel more pressure from Intel's gradual entry into PC manufacturing.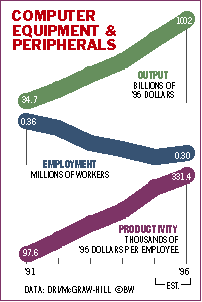 Before it's here, it's on the Bloomberg Terminal.
LEARN MORE