Prognosis '96 Business Services
Positives
-- Continued industry restructuring favors a variety of services, from temporary help to consulting and engineering.
-- Booming economies in Asia and other markets offer new work to U.S. architects, engineers, and advertisers.
Negatives
-- A shortage of quality staff looms as businesses demand more sophisticated services.
-- Consolidation among clients adds price pressures and kills smaller or less specialized firms.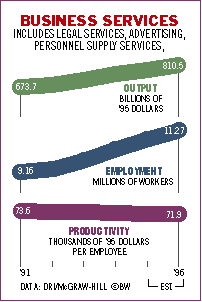 Before it's here, it's on the Bloomberg Terminal.
LEARN MORE