Positives
-- Lower interest rates make auto loan and lease payments more affordable.
-- A flood of products--Ford's Escort and new pickup and GM's family sedans--should whet consumer appetites.
Negatives
-- Cost-cutting and a weaker yen are making the Japanese tougher competitors than ever.
-- Price-conscious consumers are demanding deals.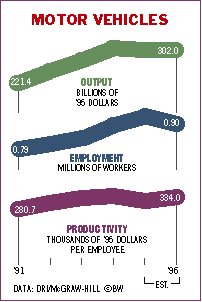 Before it's here, it's on the Bloomberg Terminal.
LEARN MORE