Now Juppe Has To Pick Up The Pieces
Bill Javetski
As Paris buses and subways began running again in late December after France's worst strikes in three decades, drivers and token-booth clerks cheerfully welcomed commuters back by letting them ride free of charge. It was a smart public-relations move--but it was also unauthorized, showing just how feisty France's public-sector unions are feeling after paralyzing the country for 24 days. In forcing Prime Minister Alain Juppe to back away from several key reforms, labor leaders have set the stage for a perilous New Year as France tries to curb spending, revive growth, and prepare for monetary union. Without a strong government in charge, achieving any of those goals may be impossible.
It is true that Juppe did not lose everything in his struggle with the unions. In late December, a "social summit" with labor and industry left intact a core plan to eliminate France's $12 billion health-care deficit. But the realization is sinking in that "Juppe is storing up problems for the future," figures Christopher Potts, economist at Paris brokerage Chevreux De Virieu.
BATTERED ECONOMY. For starters, Juppe's health-care plan probably marks the limits of the reforms that his government will achieve. Tackling the costs of France's civil service now seems impossible, since to end the strikes, Juppe caved on the key points of reforming the loss-ridden national railroad and aligning public-sector pensions with more restrictive private-sector ones. And with his autocratic style, Juppe has failed to build any kind of consensus for further cuts, even though government spending is fast pushing up debt levels to dangerous heights (chart).
Yet Germany, France's key European partner, is insisting on even deeper French budgetary austerity for a possible monetary union. For a single currency to work, France must meet the German demands. Even a vigorous economic upturn won't be enough to keep Juppe from needing additional spending cuts to shrink the deficit from its current 5% of gross domestic product to 3% by the end of 1997. That's when France and other aspiring candidates must prove they qualify for the currency union.
France's economy enters 1996 badly battered from the strikes, which may resume at the end of January. Estimates of the strikes' costs in lost economic activity range as high as $4 billion. The crippling job action, which dried up holiday shopping, put some 50,000 small businesses at risk of failing, according to Conseil National du Patronat Francais, the French employers' association. "We're in recession now, and we'll enter 1996 slowing down further," says CNPF Vice-President Denis Kessler. Unemployment, which recently began rising again, will top 12% by June, the national statistics office estimates. Morgan Stanley Group Inc. economist Eric Chaney sees France's economy growing just 1.3% next year. For 1997, the critical year for picking nations that will be eligible for monetary union, he sees France's budget deficit hovering above 4%, a full percentage point off the target.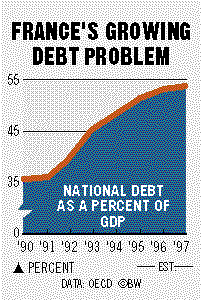 THIN GRUEL.. Boxed in by the unions, Juppe hopes to stimulate moribund consumer activity by granting tax breaks to investors selling stakes in money-market funds. To tackle 20% youth unemployment, he is looking to persuade companies to fill half their job vacancies with people under the age of 25. And he is calling on business and labor to speed up negotiations over part-time work and other ways to make French industry more flexible.
But that's thin gruel considering France's budgetary plight. The strikes may be over for now. But their repercussions on France and all of Europe will be felt through 1996 and beyond.