Newborn Babies, Bawling Moms
They want laws to make insurers pay for longer hospital stays
Keith H. Hammonds
It is likely the most reviled fiat in recent medical history: 24 hours after childbirth, mother and baby are out the hospital door, cut off by their insurer. "So negligent," says Kathy Sargent, an expectant mother in Westport, Conn. "Appalling," says Randi Curran of San Francisco, who will give birth this spring. "It must be men who made up this policy."
Managed care has met the masses--and the masses aren't happy. Perhaps 40% of newborns currently are discharged after one day, say hospitals, twice the number in 1990. The economics driving that shrinkage are compelling: Childbirth is by far the most common reason Americans enter hospitals, and reducing stays would save insurers hundreds of millions of dollars a year. Most mothers, though, would rather stay put, and doctors don't want medical decisions taken out of their hands. The result is "a rallying point for people who have bad feelings about managed care," says Michael A. Maffetone, CEO of University Hospital at Stony Brook, N.Y.
STATEHOUSE ACTION. The outrage has found an outlet: In 1996, 25 states are expected to introduce legislation that would require insurers to pay for a 48-hour inpatient stay for normal deliveries when a physician prescribes it. Five already have passed such laws. In California, where health-maintenance organizations pioneered the one-day stay years ago, insurer pressure to reduce postpartum stays to 12 hours has legislators promising a bill on Governor Pete Wilson's desk in January. Senator Bill Bradley (D-N.J.) is amassing support for similar federal legislation.
In this debate, pure medicine may be on the insurers' side. While some doctors and hospitals say they're seeing more cases of jaundice and dehydration in newborns, the hospital readmission rate for babies remains around its traditional 2%. Several studies have found no link between one-day stays and consequent complications. "There is virtually no clinical evidence that there's a technical medical necessity for an acute medical stay of more than 24 hours," says A. Bruce Campbell, chief medical officer at Aetna Health Plans.
Insurers and HMOs have joined with the U.S. Chamber of Commerce and groups such as the American College of Nurse-Midwives to battle minimum-stay legislation. Many hospitals, too, worry that government remedies, while intended to give doctors and patients decision-making power, risk setting a precedent for wide-ranging regulation of medical practices--or simply will force insurers to cut compensation elsewhere.
Some hospitals have devised an alternative solution: A growing number are offering to absorb the cost of a second night's stay for mothers whose insurers don't pay. Hospital executives say they're motivated primarily by safety concerns, but they admit the attending publicity doesn't hurt. "I will not lie," says T.J. Padden, administrator at Box Butte General Hospital, a 44-bed facility in rural Alliance, Neb. "It's not a bad marketing thing." Incremental costs for additional nights are low--rarely more than $200 a night, and far lower at Box Butte. Stony Brook, the first hospital to underwrite longer stays, says its maternity admissions are up 8% in the past six months.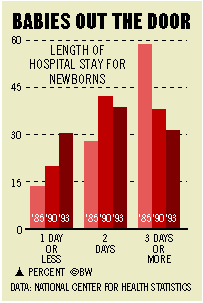 FLAT FEES? The downside to this approach, say other hospital executives, is that it ultimately could weaken their negotiating power with insurers: Eating the cost on one procedure could encourage HMOs to cut back on others. For now, though, the commotion may be gaining the desired effect. Hospitals that pay for a second night say some insurers have quietly agreed to foot the bill when patients so desire--although just one company, Independence Blue Cross and Pennsylvania Blue Shield, has publicly announced such a retreat.
Ultimately, managed care likely will offer a different solution. Insurers are starting to compensate hospitals on a flat-fee basis for many procedures, much as Medicare does, rather than negotiating per diem rates. As that happens, providers will take on some of the financial risk of giving care--but also much of the decision-making power. The 24-hour stay may yet survive, but it won't be on managed care's head.
Before it's here, it's on the Bloomberg Terminal.
LEARN MORE