Mighty Morphin Power Rearrangers
Deregulation will transform the industry--and continue to pinch profits
Mark Maremont
`Exciting, intense, and fun": That's how a prominent electric-utility executive describes his job these days. Surprised? If you thought electricity was about as thrilling as dentistry, look again. A three-year-old drive toward deregulation is causing new upheavals, from cut-rate pricing to an unprecedented surge in mergers.
On the regulatory front, the action in 1996 is likely to get a jump start from an innovative plan approved by California's Public Utilities Commission at the end of 1995. The plan, subject to change, would let some customers shop for electricity from rival suppliers starting in 1998. The long-awaited decision is another sign that the economic and political forces propelling deregulation are too powerful to halt. Even American Electric Power Co., the nation's second-largest investor-owned utility--and at one time a staunch opponent of competition--proposed its own far-reaching deregulation plan in 1995. Rather than fight the tide, says Charles A. Falcone, an AEP senior vice-president, "we have decided we want to help shape the industry's new structure."
SMOOTH SHIFT. AEP and other utilities had little choice. Profits will be boosted or ravaged for years depending on how the industry and regulators resolve some vexing questions. One big one is how far competition should go. The most radical approach would let customers choose an electricity supplier just as they choose a long-distance phone carrier, with power flowing over still regulated lines maintained by the local utility. A more moderate approach would retain today's basic structure but require utilities to set rates based on prices in a wholesale power pool, which proponents say would cut down on confusion. Muddying the waters, California regulators decided to let both approaches coexist.
Then there's the issue of the billions of dollars in uneconomical power plants and long-term power contracts on the books of many utilities. These will become millstones in a world where the cheapest power suppliers will prevail. Big customers and some low-cost utilities contend that overly expensive power plants and contracts should be written off, forcing shareholders to bear the brunt of utilities' past poor decisions. But most utilities argue that their costs are largely a legacy of poor regulations, so customers should continue to foot the bill for a period. Allowing customers to disregard their obligations "is like asking your bank to let you walk away from half your mortgage just because you want a new house," argues Thomas J. May, CEO of Boston Edison Co.
READY TO BID. More states will grapple with these and other contentious issues in 1996, starting with Massachusetts and New Hampshire. Meanwhile, utilities are shedding costs and their monopolistic mind-sets. Boston Edison dumped one-fifth of its managers in 1995 and tried to spur new thinking by reassigning most of those remaining to new jobs. WPL Holdings Inc., a low-cost Wisconsin utility, has offered to show rivals' big customers how much they could save by switching to WPL. It can't wrest away the customers now, but it hopes to have the chance soon. "Nobody owns customers," says Erroll B. Davis Jr., WPL's aggressive CEO.
Despite cost-cutting, profit margins aren't likely to improve much after a five-year slide. Why? To stop defections, many utilities are cutting prices to big customers 10% to 40% in return for long-term commitments. Average aftertax profit margins declined to 17.2% in 1995, from 18.9% in 1991, says Daniel Scotto, an analyst with Bear, Stearns & Co.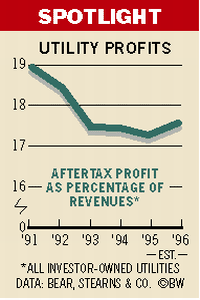 Moreover, some high-cost utilities are carrying artificial assets on their books, such as payments due from customers over the next 20 to 30 years. If deregulation proceeds far enough, utilities may have to switch to industrial accounting standards that don't recognize such assets. The resulting megawrite-offs "could get very ugly," says analyst Scotto, who cites Centerior Energy Corp. as a prime candidate. Some utilities could be forced into a restructuring or even bankruptcy.
Also on tap for 1996 are more dividend cuts by an industry where dividends once provided almost the only investment appeal. And mergers, which reached a record $11.9 billion in 1995, are likely to keep surging, especially if stock prices start to plummet as competition takes hold. No question about it: The electric-utility industry isn't boring anymore.
Before it's here, it's on the Bloomberg Terminal.
LEARN MORE