Metals Need A Few Support Beams
For steelmakers, falling prices and labor issues loom large in '96
by
At the dawn of 1995, Matthew Botsford, chairman of World Class Steel, was confidently raising money to build a $450 million minimill near Pittsburgh. If anyone epitomized America's resurgence in the steel industry, it was Botsford, an entrepreneur who had built a successful $20 million steel-finishing business and was following in the footsteps of Andrew Carnegie.
These days, Botsford is an ex-executive. He's suing his old company--after being ousted during a November board meeting and whisked from the building by a security guard. His project had the backing of banks, suppliers, and the state government. But Botsford had trouble convincing equity investors--and ultimately his board--that a new minimill could make money in a climate of falling steel prices.
In the end, Botsford fell with a tumbling steel market. In 1995, as demand dropped from 114 million to 110 million tons, prices plummeted, too: Flat-rolled steel plunged from $440 to $355 per ton. Other products, such as structural beams, thrived. But because flat-rolled is widely used in cars, appliances, and other products, it accounts for half of steel sales and defined the year. "When we cut flat-rolled prices, it was on page A1 [of the paper]," laments Nucor Corp. President John D. Correnti. "When we raised prices of structurals, it was on C4."
WILD CARD. The industry could wind up on page one again this year, with even worse news. Executives see unchanging demand in 1996. A lower level of inventories to start the year will help avoid a replay of 1995's heavy price-cutting. But new steelmaking capacity coming onstream will put further downward pressure on prices, especially in the commodity grades of steel. "The low end of the market is going to be tough for a while," says Roy G. Dorrence, vice-president for operations at U.S. Steel Group.
The wild card this year is overseas. U.S. producers hope strong growth in China will translate into a buying binge reminiscent of 1993. But the key factor for 1996 will be Europe. It was a vital prop under American steel during the first half of 1995--but then buckled at midyear. If a weak European economy prompts producers there to step up exports, cheap European steel could undercut U.S. producers' prices and lead to fresh trade squabbles.
The biggest problem for U.S. producers is homegrown, however. Before last year's price drop, a minimill-building boom was well under way. The new mills could add 12 million tons of low-cost flat-rolled steel to production capacity in 1996 and 1997 combined. That's nearly five times the capacity added in 1995. If flat-rolled could crash last year in a relatively strong economy, what will happen to the market in a downturn, especially when new mills come onstream? "That's when we'll have our death spiral," predicts PaineWebber Inc.'s Peter Marcus, who expects lower profits in 1996 and an even greater crash later this decade.
STRIKE BAN. As if economic prospects weren't intimidating enough, labor questions loom. Most integrated companies face mid-contract wage-and-benefit negotiations in 1996. Strikes or lockouts are prohibited. But concessions granted by arbitrators could eat into earnings. Job-security clauses in these contracts limit the big mills' power to cut labor costs. Instead, the producers improve yields by tweaking the technology. In the past three years, they have added 4 million tons--the equivalent of Nucor's entire flat-rolled production--through this so-called capacity creep. Log one more factor in an eventual glut.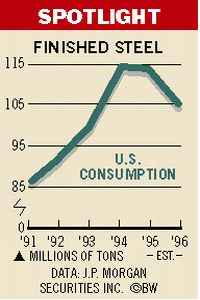 With a world oversupply, steel faces a dilemma just like the one U.S. aluminum makers wrestled with early in the decade. But aluminum companies, swamped with cheap Russian metal, shuttered 30% of production and negotiated an OPEC-style allotment plan. Prices recovered smartly in 1995, as massive world inventories shrank by 75%. U.S. demand rose 5%, with sales rising to 15.5 billion pounds. Aluminum looks strong again in 1996, led by a recovery in aerospace demand. But can prices remain firm if aluminum makers reopen shuttered smelters? For now, executives don't even mention the possibility, for fear of spooking the market.
In the face of such difficult markets, metal industries are more and more battling to take business away from one another. Auto hoods, tailpipes, and even beer cans are among the contentious areas. And if unexpectedly slow growth in China, Europe, or the U.S. brings about a steel glut ahead of schedule, the metal wars could grow very nasty.
Before it's here, it's on the Bloomberg Terminal.
LEARN MORE