Looking For Safety In Numbers
Consolidation--and competition from other investments--are changing the business
Tim Smart
If there is one word that sums up prospects for the insurance industry in 1996, it's consolidation. Last year saw a record $18 billion worth of insurance-company mergers and acquisitions, and there's no letup in sight. "There are too many players competing for too little return in a crowded marketplace," says Eric Simpson, a vice-president at rating agency A.M. Best Co.
The late November announcement of Travelers Inc.'s $4 billion purchase of Aetna Life & Casualty's property-casualty unit capped a year in which CNA Financial swallowed Continental Insurance for $1.1 billion and Zurich Insurance took over Home Insurance. The same pressures that forced these deals--weak returns, large exposures to environmental claims, and lack of sufficient capital to keep ratings up--are expected to continue in 1996. While the companies have said nothing publicly, analysts believe that CIGNA Corp. and Prudential Insurance Co. are among the big-name companies considering selling their property and casualty units.
CUTTING OVERHEAD. For property-casualty insurers, two big helpers are low inflation and low interest rates. The benign operating environment in 1995 led to a doubling of net income, to $22.3 billion from $10.9 billion in 1994.
In 1996, however, property-casualty insurers should see only a modest uptick in their business. A survey of Wall Street analysts by Insurance Information Institute found them expecting growth in premium dollar volume of about 4.6% in 1996. While that would be better than the 3.9% rate of growth in 1995, it will still lag behind the growth of the early 1990s. The problem: continued price pressures from overcapacity, especially in commercial lines, such as general business liability and workers' compensation. "There has been no fundamental improvement in underlying performance during the last five years," says Robert Stein, director of Ernst & Young's insurance-industry practice.
With paltry premium growth, property- casualty insurers will have to cut overhead, now a quarter on every dollar of premium. Travelers hopes to trim $300 million from operating expenses and cut 3,000 jobs when it takes over the Aetna unit.
The consolidation trend affecting property-casualty writers is no less dramatic in life insurance. Metropolitan Life Insurance Co. and New England Mutual Life Insurance Co. have announced plans to merge, while several operators, such as General Electric Capital Services Inc., went on buying sprees. Here, the motivation is increasing assets under management to compete with gargantuan mutual-fund houses and other financial-services conglomerates.
EXPENSIVE DISTRIBUTION. Life insurers enter 1996 facing continued weakness in their core business as more Americans turn away from traditional life insurance to investment products such as mutual funds. While mutual funds are sold through low-cost, consumer-oriented direct marketing such as television, life insurers still sell their products mainly face-to-face through an expensive network of agents.
A survey by consultant Towers Perrin found that the No.1 issue of concern for life-insurance chief executive officers is improving their distribution system. Towers Perrin consultant Rick Berry estimates that distribution makes up two-thirds of the cost of a life-insurance policy. "Traditional life companies have delegated to their agents decisions like what mix of products to sell, what markets to pick, and how to promote the products," says Berry. Many life insurers have begun striking deals with banks to sell their products, a trend that is likely to accelerate in 1996.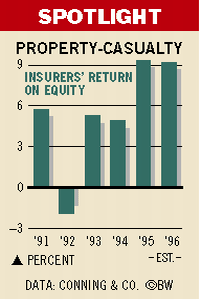 Insurers have had good results selling annuities, which typically offer income or capital gains as well as life insurance. The 13% rate of growth for annuities is four times the rate for traditional life insurance products. But competition is getting fierce. "It's a changing landscape," says CNA Chairman and CEO Dennis H. Chookaszian. "Banks will be a much more significant seller of these products in the future." A positive for life insurers is that their mortgage and real estate problems of the early 1990s have largely dissipated, while strong financial markets have helped investment returns.
A couple of years back, few would have imagined alliances such as Travelers' bold deal with Aetna or life insurance companies allowing their competitors in banking to sell their products. But as the historically underperforming insurance industry tries to catch up to the new world order in financial services, it is learning to adapt.
Before it's here, it's on the Bloomberg Terminal.
LEARN MORE