It's A Good Year To Get Hitched
'96 could be tough, so papermakers will continue to merge
Seanna Browder
For a few crazy months early in 1995, making paper was akin to printing money. As demand outran supply, prices for white paper took their most dramatic leap since World War II. The jump of 38% per ton in Dean Witter Reynolds Inc.'s paper and paperboard composite index drove up profits an estimated 180% for 1995 at the 19 largest wood and paper companies. As paper executives tell it, the temptation to add new capacity was almost unbearable. But remembering a binge that turned to bust earlier in the decade, they resisted. "The memories are still fresh of what it feels like in a down cycle with too much capacity," says Lynn Michaelis, Weyerhaeuser Co.'s director of marketing and economic research.
Good thing. Fearing ever-higher prices, customers stockpiled paper. By summer, the bloated inventories undermined the sky-high prices, and they tumbled an average of 11%. Even without big new investments, the American Forest & Paper Assn. expects production capacity for pulp and paper to rise 3% in 1996, largely because of efficiency improvements. And that may be enough to push prices down, says Merrill Lynch & Co. analyst Sherman Chao. Chao predicts that prices of pulp and paper could decline as much as 19% in 1996 on steady volume. This spells lower profits, though nothing resembling the industry's dive in the early '90s.
Without any hope for booming demand, expect paper and pulp companies to spend 1996 cleaning up balance sheets or plowing ahead with industry consolidation. "In our business, it is more favorable to buy assets than build new plants," says John A. Georges, International Paper Co.'s chief executive.
ELECTION YEAR. Acquisitions already are rolling. Kimberly-Clark Corp. gobbled up Scott Paper Co. for $9.4 billion in December. Earlier in the year, International Paper agreed to buy Federal Paper Board for $3.5 billion, and paid $1.15 billion for a controlling stake in Carter Holt Harvey, New Zealand's largest timber-plantation owner. Boise Cascade sold its Rainy River Forest Products unit to Canada's Stone-Consolidated and acquired a 6.4% interest in Stone. In 1996, look for plenty more deals, as the powerhouses buy slices of global markets and extend their reach over raw materials.
As the year begins, demand for white paper is lolling at 7% below year-ago levels. Demand should recover smartly in 1996, especially in coated papers used in glossy advertising, which should be bolstered by a Presidential election and the Atlanta Olympics. "The coated grades are holding their own," says Paul C. Latta, an analyst at Ragen MacKenzie in Seattle. Newsprint, though, which climbed 40% in price from 1994 to 1995, could be headed for a fall. Inventories are at record levels, and high prices are dampening demand.
Recycling should continue to attract much of the growth in the pulp industries. Minimills, which convert old cardboard into pulp, are proliferating as such companies as Weyerhaeuser and Boise Cascade Corp. expand. Recycled materials should jump 26% in 1996, while production of marketwood pulp--the product of virgin wood chips--rises just 0.3%, according to the American Forest & Paper Assn. The extra pulp will go into producing more linerboard, kraft paper, and corrugated paper, creating a plentiful supply of those products and damping their prices, says Larry Katz of Pacific Crest Securities in Portland, Ore.
HOUSEBOUND. The lumber industry, meanwhile, is struggling against competing materials and a surge of imports. Canadian lumber now accounts for around 35% of the U.S. market, up from 28% in 1989. At the same time, growing numbers of builders are substituting steel for wood, with steel-frame housing growing from 500 to 80,000 houses in the past four years. And total housing starts will rise only modestly in 1996, to around 1.4 million. All that should spell a continued slump in lumber prices.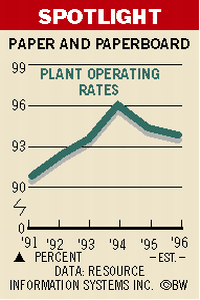 Meanwhile, the wood industry will press ahead with such promising engineered products as oriented strand board, a cheap new kind of fiberboard. By 1998, there should be over 7 billion feet of oriented strand board capacity, up from zero in 1988, estimates L. Pendleton Siegel, CEO of Potlatch Corp., based in San Francisco. This should claim fully 50% of the fiberboard capacity, prompting a brawl. "There's going to be a bloody market for the next two years," says Siegel. So don't be surprised to see a few of the losers get gobbled up by the industry giants.
Before it's here, it's on the Bloomberg Terminal.
LEARN MORE