`I Want Blood For Blood'
James Drake
In the north Albanian village of Bluji, deep in the Dukagjin highlands, women and children do most of the work. Grandmothers scrub laundry on the doorsteps of stone cottages. Young wives--some heavily pregnant--lug pails of water along the rutted cart track from the communal well. Five-year-olds spend long days in the fields tending scrawny livestock.
Bluji's menfolk hold antiquated notions of gender roles, but it's fear that keeps most of them from showing their faces: This is the land of the blood feud, a centuries-old tradition. Kept in check during the communists' rule, it reemerged three years ago, forcing some 10,000 able-bodied breadwinners, out of a population of 3 million, into hiding.
SHAMEFUL. "I want blood for blood," spits Nasi Gjini, polishing the pre-1914 Lee Enfield rifle that has been his constant companion since his two sons were shot to death by a neighbor in February. The deaths followed an exchange of drunken insults. Now, the teenage assassin, his three brothers, and his father stay indoors, thwarting Gjini's quest for revenge. A murderer's male kin are fair game, but gunning them down in their own house is more shameful than the original offense. "Here I am safe," says the Gjinis' killer, peering through the bars on his window. "But this is no kind of life. Only Allah knows how long I'll have to stay here." He spends his days smoking, sleeping, and playing cards.
The blood feud goes back to the 12th century and was a means of meting out summary justice. After World War II, under dictator Enver Hoxha, the practice was suppressed, with murderers executed and their families ostracized. But with the fall of the regime, old ways quickly returned.
The circle of violence is taking an economic toll among the hot-tempered subsistence farmers. When Albania opened its doors for business, some multinationals came courting the highlanders, bringing hard currency. Leisure giants such as Club Med talked of opening ski resorts and hiking lodges on the country's game-packed slopes and sending whitewater rafts down its salmon rivers.
"But even if they had found local partners they could trust, there would be no guarantee those partners would be alive the next morning," says Adnan Rama of the Albanian Tourist Ministry. Potential investors backed off, taking their dollars and Deutschemarks with them. Most folks run livestock on land too poor for farming. Some make a better living smuggling oil, weapons, liquor and cigarettes to Serbia and Bosnia. But the average income is just $30 per month.
The Dukagjin district has seen some 350 revenge killings since 1993, and the problem is spreading: Hill people who migrate to the cities in search of work take their quarrels with them. "I'd say around 20% of our murders this year were connected to the feuds," estimates Shkelqim Merdani, police chief in Tirana, the capital.
In a bid to stop the madness, Islamic cleric Ndrek Pjetri formed the Missionaries of Reconciliation, a group of holy men dedicated to ending feuds. Its members act as go-betweens, often persuading the aggrieved party to accept cash in place of blood. The mullah has even traveled to Turkey and Germany to settle quarrels between expatriate Albanians, and in 1994, he successfully petitioned the U.S. Embassy in Tirana to cancel a visa granted to a man bound for New York to carry out a killing.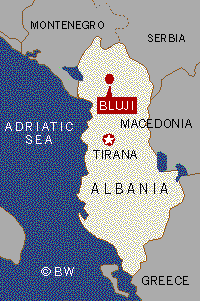 For many here, honor means more than anything. Last year, on his 16th birthday, a boy traveled to nearby Kopliku to avenge the killing of his grandfather 40 years ago by a brutal police captain. Reaching Kopliku, he found the killer had died. So he called out the captain's cousin, bade him greet the grandfather, and dispatched him with a single bullet, thereby removing a stain on his family's honor. The boy himself was killed before he turned 17.
The 68-year-old Pjetri claims to have resolved more than 170 disputes, but new ones crop up too fast for the pack mules he uses to travel to isolated villages. By the time he arrives, another murder may have taken place. So he has applied for a government grant to buy a four-wheel-drive vehicle. "They say there isn't money," he says. "I've told them they should see it as an investment."
Before it's here, it's on the Bloomberg Terminal.
LEARN MORE