Fay's Drugs: Fit To Be Swallowed?
By
The "shakeout" investors--who buy into companies whose industries are in the throes of consolidation--are convinced that Fay's (FAY), the nation's 13th-largest drugstore chain, is ripe for picking. The shares have dropped to 7, down from 9 3/8 in late April, partly because of investors' disappointment that a rumored takeover has not yet materialized. And a flurry of yearend tax-loss sell-offs may be adding to the downward pressure.
But the focus, insists one big investor, should be on what's happening to all drug chains. "A shakeout in the industry is under way," notes analyst Maurice Levenson of Value Line. This is being fostered, he explains, by the emergence of managed-health-care plans and stiff competition from giant discounters such as Wal-Mart Stores and Target Stores. Analysts note the industry could also shed a lot of duplication and costs by buyouts of weaker companies. A recent example is Rite Aid's agreement to acquire Revco for $1.8 billion.
Fay's--with its sales sluggish, its earnings down, and the stock on the ropes--is regarded as one of the industry's weak sisters. "It's similar to the Revco situation. The likes of such possible suitors as Walgreen's could swallow it up just like that," says investment manager Mike Kicera of MRK Capital Management.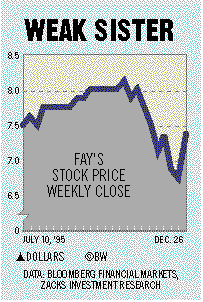 Kicera figures that Fay's shares are worth 12 to 15 in a buyout--based on what Rite Aid agreed to pay for Revco. With 276 outlets in New Hampshire, New York, Pennsylvania, and Vermont, Fay's is streamlining its operations by getting rid of noncore businesses. It sold off Wheels Discount Auto Supply Div. to Sears Roebuck's Western Auto Supply for $37 million. Management is also expected to unload the 30 Paper Cutter discount-office-supply stores.
"Without Wheels and Paper Cutter, Fay's would be a much more attractive takeover target," says one money manager accumulating shares.
Providing added inducement for Fay's to sell: Management and directors own about 31% of the stock--including the holdings of the family of Chairman Henry Panasci Jr. Fay's didn't return calls.
Before it's here, it's on the Bloomberg Terminal.
LEARN MORE