China Tire May Be Unduly Deflated
by
On the Big Board, China Tire Holdings (TIR) behaves as if it were a retread. In early summer, shares of this major Chinese tiremaker were around 12. They're now at 6, and even Morgan Stanley downgraded its rating in November to "neutral" from an earlier "buy." That's quite a blow: Morgan Stanley was one of China Tire's major underwriters when it went public--in July, 1993, at 17 a share. And it owns 5.7% of the stock. Constantly shifting U.S.-China relations are part of the Street's aversion to the stock. And there has been concern about China Tire's earnings predictability.
But not everyone is down on the stock. Investment manager Bill Harnisch has been buying since the stock hit 8 in September--and bought even more when it dropped to 6. How come?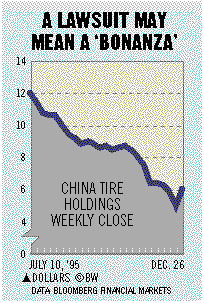 "For a company with an estimated book value of more than $15 a share, the stock is very cheap," says Harnisch, president of Forstmann-Leff, a New York investment firm managing about $3 billion. And in spite of the poor performance of most other Chinese tire biggies--caused in part by a drop in car sales--China Tire's revenues in most of 1995 jumped by more than 33%, and its earnings grew by 10%, he notes. Harnisch estimates 1995 earnings at 50 cents a share. For 1996, he foresees earnings of 75 cents.
And then, there is the "bonanza that we expect China Tire could win from its lawsuit filed against Goodyear in the U.S.," says Harnisch. China Tire claims that Goodyear interfered with its contract to buy a radial-tire factory in China owned by Dalian General Rubber Factory: Goodyear bought the factory instead. Some analysts believe Goodyear Tire & Rubber faces a $3 billion penalty if it loses the legal fight.
Before it's here, it's on the Bloomberg Terminal.
LEARN MORE