business
Apple: Another Bout Of Bad Tidings
Profit pressure may bring layoffs and suitors
By
Apple: Another Bout Of Bad Tidings
Profit pressure may bring layoffs and suitors
By
Mike Spindler just can't get a break. Instead of celebrating the blowout sales he expected this Christmas quarter, Apple Computer Inc.'s CEO is bracing for a very rough ride. In mid-December, the company warned of a possible loss during the period, and analysts fear the worst--layoffs, projects killed, maybe more losses. Some even say Apple will have little choice but to sell off parts, if not all, of the business. And there are again rumors that Spindler's job is in jeopardy. Says Robertson, Stephens & Co. analyst John T. Rossi, who doesn't foresee profits again until next fall: "Apple is in a tougher spot than it's been in for a long time."
The reason? Banking on a strong season, Apple pumped up production by about 30%. To move its many Macintosh models, the company slashed prices. Simultaneously, it faced a shortage of profitable high-end models. To make matters worse, Apple was slammed by a vicious price war in Japan. The net result: On Dec. 15, Apple announced that its unit sales and revenue for the Christmas quarter were running above last year's level but below internal forecasts. Dean Witter Reynolds Inc. analyst Eugene G. Glazer now expects Apple to report a $5 million loss for the quarter, down from a $178 million profit on sales of $2.8 billion for the same quarter a year ago. Glazer figures Apple's gross margins for the period slipped to a tiny 18.2%.
CREDIT WATCH. Apple has gained market share worldwide, hitting 9.3% of the PC market this fall, up from 7.9% at midyear, figures New York-based researcher Link/IDC. Apple execs see the share improvement as critical, maintaining that software developers--and then customers--will abandon the Mac if it loses more ground to PC rivals. But to make its market-share gains, Apple sacrificed profitability--and its long-held tenet that consumers are willing to pay a premium for its computers. Recent price cuts narrowed the gap between Macs and PCs from $1,000-plus in 1994 to $320, IDC figures.
Apple isn't giving up on its strategy. It recently sweetened discounts to big resellers with $20 million worth of Mac sales a year. And dealers say Apple will cut prices 10% again in January on some PowerBook laptops and high-end 9500 Power Macs. But outsiders worry that Apple can't afford its crusade. Analysts figure Apple's cash balance is down to $200 million. Standard & Poor's and Moody's Investor Services started reviews of Apple's credit on Dec. 18.
That makes internal cost-cutting crucial. Insiders say between 1,000 and 2,000 employees--7% to 15% of the workforce--could be let go before quarterly results come out on Jan. 17. More manufacturing also may be outsourced, and nascent businesses--such as multimedia set-top boxes--may be sold or axed.
Some outsiders contend even that won't do it. Glazer says slashing 1,500 jobs translates into $100 million in yearly savings, vs the $450 million he thinks Apple needs to reach Compaq Computer Corp.'s 23.5% gross margins and earn its 10% net. To fuel development of the Mac alone, Apple spends about 5.6% of sales on R&D, vs. 1.8% for Compaq.
Spindler engineered Apple out of a similar crisis in 1993, when he laid off 13% of the workforce and took a one-time quarterly loss of $188 million. Can he do it again? With gross margins way down, he has less room to maneuver. Thanks to a bloody price war started by Fujitsu Ltd., Apple's Japanese unit, normally the source of 30% of the company's profits, will be lucky to break even this quarter, analysts in Japan say.
Despite rumors, insiders think it's unlikely Spindler will get the boot at Apple's scheduled board meeting in mid-January. "The board stands behind the statement in October in support of Michael Spindler," says a director.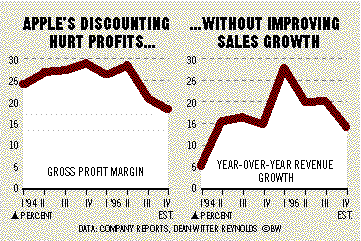 TROIKA TALES. Apple's troubles, meanwhile, have lowered its share price by 34% since mid-July, to about $32--not far above the company's book value of $23.50. That has made Apple takeover bait. Two new suitors said to be sniffing around: Sun Microsystems and a three-way partnership of Apple co-founder Steve Jobs, who left in 1985; Lawrence Ellison, CEO of software giant Oracle; and Jim Manzi, former chief of Lotus Development, the software company recently taken over by IBM.
Sun execs won't comment on rumors, though Eric E. Schmidt, its chief technology officer, calls Apple "a strong brand." As for the troika? No way, says Jobs: "The rumor ain't true. Though there might be romance in the idea, I'm afraid one can't go home again." The question: How much breathing room does Spindler have left?