All Together Now: `Make That To Go'
Insatiable demand for convenient, ready-to-eat meals has the food biz scrambling
Greg Burns
Boston Chicken Inc. didn't expect much when it tested ready-made holiday meals this past Thanksgiving. But customers flocked in, gobbling down hundreds of roast turkeys with all the fixin's. Why? "People don't even have time to cook Thanksgiving turkey dinner," says Saad J. Nadhir, co-chairman of the take-out chain.
In 1996, the nation's $900 billion food industry will be at the mercy of customers who don't have time. Shoppers who can barely steal a few moments to shop--let alone whip up home-cooked feasts--will set the pace of growth for food processors, retailers, and food-service chains. The edge will go to big, dominant companies that can use marketing clout to expand "share of stomach" at the expense of weaker competitors. Other winners will be innovators of all sizes that find new ways to ease the hunger pangs of a harried populace.
Inevitably, the time squeeze on shoppers will create losers, too, especially among traditional full-line supermarkets. Their strong cash flows give them enviable staying power, so an immediate shakeout is unlikely. But erosion will continue as supermarkets face off against up-and-comers such as Nadhir, who estimates that half the customers at his fast-growing Boston Chicken chain would otherwise have cooked at home. "You have too many retailers competing for too few food dollars and appealing to consumers who have less time to deal with it," says consultant Neil Z. Stern of Chicago's McMillan & Doolittle.
IDLE OVENS. Food processors and restaurant chains will see 5% to 6% revenue growth in 1996, Stern estimates. Supermarkets will eke out 2% to 3% growth, barely even with inflation. As U.S. households prepare fewer meals at home, the percentage of food dollars spent at food retail stores--as opposed to restaurants, cafeterias, convenience stores, and the like--will dip to 48% in '96 from 55% a decade ago (chart). "It's a great threat to supermarkets," warns John H. Bryan, chief executive officer for Sara Lee Corp.
Consumers clamoring for ready-to-eat meals have made deli sales the one supermarket bright spot. Supermarket chains such as Byerly's in Edina, Minn., and Dominick's Finer Foods in Northlake, Ill., have pioneered new in-store formats. In '96, expanded deli departments will attract at least 8 cents of each food dollar, up from 4 cents in 1986. And watch for more supermarkets to introduce mall-style food courts featuring proven operators such as McDonald's Corp., which is testing outlets at a Farmer Jacks supermarket in Michigan and a Kroger in Tennessee. Food processors will join in, too: Sara Lee has 17 sandwich shops serving its premium deli meats inside Kroger supermarkets in Texas and Ohio.
Among restaurant chains, cost control will be crucial. McDonald's has cut the cost of opening a new restaurant by 30% over the past five years through standardization and more reliance on drive-thru layouts. That has helped McDonald's step up its U.S. growth fivefold, including joint ventures that have put Golden Arches in Wal-Mart Stores, Home Depots, Incredible Universe home-electronics stores, and Amoco gas stations.
FAR AND AWAY. With so many more outlets at hand, busy shoppers visit more often, leaving less on the plate for the competition. Says McDonald's Vice-Chairman Jack M. Greenberg: "If you can dominate a trading area, it's much more difficult and expensive for competitors to take customers away from you."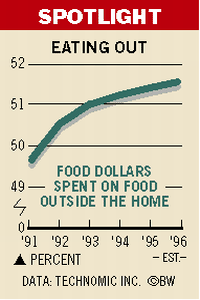 Dominance matters to food processors, too. They're struggling to increase scale and efficiency to satisfy the likes of supercenters, which combine cut-rate supermarkets and discount stores under one roof. Food processors also hope to give their ho-hum U.S. results a boost by pursuing fast-growth markets overseas. And sharp operators such as H.J. Heinz, CPC International, Campbell Soup, and others will be trying to lock in relationships with fast-growing food-service operators. "Everybody has the same three strategies--lower domestic costs, grow internationally, and push into food service," says analyst John M. McMillin at Prudential Securities Inc.
With all hands reaching for the same brass ring, the strongest brands rule. As in 1995, industry players will sell off weak units to more dominant competitors and buy businesses that enhance existing strengths. The goal? Be No.1. "I'm not even sure being No.2 is enough anymore," McMillin says. For investors, the message is clear: In the scrap over "share of stomach," bet on the top dogs.
Before it's here, it's on the Bloomberg Terminal.
LEARN MORE