A Year Of High Rise Expectations
The office market expects a banner year, while other markets look less robust
Amy Barrett
For much of the past two years, the real estate and construction industry celebrated the return of growth. Having survived the dark days of the early 1990s, investors savored the recovery of apartment and retail properties, followed by offices and hotels. But 1996 will be more of a mixed bag. On the downside, there are early signs of overheating in some markets for construction of apartment and retail space. On the upside, a stronger housing market should help pick up the slack. And with office occupancy and rents improving, 1996 will mark the return of one fixture of the 1980s: high-rise office projects.
The generally good news for real estate stems largely from the continued decline of interest rates. Lower rates helped spark homebuilding in the second half of 1995. And National Association of Home Builders Chief Economist David F. Seiders figures moderate economic growth will lead to even lower mortgage rates in 1996, averaging about 7.3% for 30-year fixed-rate mortgages. That should nudge multi- and single-family housing starts up about 3%, to nearly 1.4 million. The days of speculative boom and bust are gone: "People look at houses as shelter rather than as an investment strategy, and frankly that's pretty healthy," says Bruce E. Karatz, chairman of Los Angeles-based Kaufman & Broad Home Corp.
Apartment construction continues to pick up steam. According to the NAHB, construction will begin on 290,000 apartments in 1996, up a bit from 1995's 274,000. While that is still less than half the 1985 frenzied peak of nearly 670,000 units, industry pros are warning that some Sunbelt markets, such as Phoenix and Las Vegas, may already be overbuilt.
BANNER YEAR. In retail construction, megamerchants such as Wal-Mart Stores Inc. and Circuit City Stores Inc. are aggressively expanding. But it doesn't appear that the market is headed for a repeat of the overbuilding binge of the 1980s. Retail construction should fall 10% in 1996, according to The McGraw-Hill Companies' F.W. Dodge unit. One reason: Aside from the retail giants that can finance their own expansion, "capital is pretty well cut off to that sector," says Douglas A. Tibbetts, president of Equitable Real Estate Investment Management Inc.
Players in the office market expect 1996 to be a banner year. Thanks in no small part to the explosive growth of high-technology companies, office vacancy rates continue to slide. And the strength of the market is sparking not only build-to-suit construction but some partially speculative building in tight markets. Arthur J. Mirante II, chief executive officer of Cushman & Wakefield Inc., says some cities will see construction with as little as 50% of the project pre-leased. "The fundamentals for office haven't been this good in 10 years," says Thomas A. Carr, president of Carr Realty Corp. in Washington, D.C.
Still, not all markets are booming. Los Angeles and downtown Dallas, which has a staggering vacancy rate of 35%, are still struggling. And Arthur Andersen & Co. Managing Director Barry D. Libert warns that better and cheaper telecommunications will allow more tenants in the future to avoid downtown locations. As a result, office operators will be forced to beef up their marketing and improve the flexibility of lease packages.
Perhaps the best buys around remain high-end hotel properties. Outside of Las Vegas, there is little new construction of luxury hotels. And Japanese investors who overpaid for such properties in the 1980s continue to sell. A Japanese bank recently sold the 539-room Ritz Carlton Hotel, Mauna Lani, in Hawaii, built for $180 million, for just $75 million.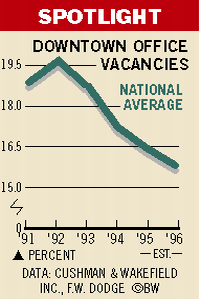 SMALL FAVORS. While the Japanese are selling, U.S. real estate continues to attract U.S. pension funds, which should cautiously expand their holdings in 1996, as well as foreign investors, from such places as Hong Kong, Taiwan, and Germany. Real estate investment trusts aren't raising a lot of money through public offerings--investment dollars have gone into the booming stock market instead--but they're discovering that private placements can work, too. For instance, Carr Realty struck a deal in November that will result in a $250 million investment in the REIT by Security Capital U.S. Realty. Carr plans to use the capital to build and buy offices across the country.
1996 won't see a return to the glory days of leaping prices. But these days, most real estate executives are thankful for slow but steady progress.
Before it's here, it's on the Bloomberg Terminal.
LEARN MORE