A Hard Won Victory In A Soft Economy
by
After a dismal 1995, Argentina is poised for an expansionary 1996. And that growth will pave the way for fiscal improvement and a stable currency.
The latest sign that Argentina is coming out of recession came from the Latin America Research Fund. The private agency reported that demand for industrial goods rose again in November. Purchases have been increasing since hitting a three-year low in August, with capital goods leading the gain. In addition, in its semiannual survey the government said that the unemployment rate slipped to 16.4% in October, from a record high of 18.4% in May. However, only part of the drop is the result of job growth of 40,000 new slots. The rest came from workers dropping out of the labor force.
Argentina's economy likely fell by 2.5% in 1995, but the government is forecasting growth of 5% in 1996. Private economists expect a more realistic 3% advance this year. Economic growth should be fueled by lower interest rates, a stronger peso--thanks to its link to the rising U.S. dollar and low inflation--and inflows of foreign funds. Already, prospects of better corporate profits have lifted the stock market in recent weeks.
Economic growth will keep the markets rising. And it will help the government balance the budget in 1996, after Argentina's $2.4 billion deficit in 1995. To raise revenues, Congress hiked the cigarette tax by 7% on Dec. 21.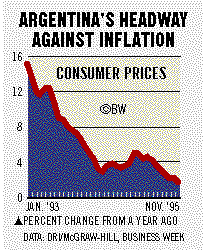 Argentina's slump was the result of an austerity program to fight hyperinflation--a battle that has succeeded so far. Consumer prices were up 1.7% from a year ago in November (chart). Inflation is on track to rise between 1.5% and 1.7% for 1995, the lowest rate on record. In 1989, Argentine inflation ran at a stunning 5,000%.
The International Monetary Fund has blessed Argentina's economic and fiscal progress, saying it would lend Argentina $380 million this year. That influx of funds--along with private money attracted by the rising stock market--is added insurance that Argentina's economy will grow in 1996.
Before it's here, it's on the Bloomberg Terminal.
LEARN MORE