A Few New Blots On The Ledger
Delinquent consumer loans and skinny margins may temper an otherwise bully year
Kelley Holland
It was beginning to look as if the good times would never end for U.S. banks. Since 1991, profits have set record after record, asset quality has sharply improved, and bank stocks have seemed headed for the moon. But now, a few clouds are dotting the horizon. Consumers are beginning to have trouble with heavy debt burdens. And the narrow gap between short- and long-term rates bodes ill for banks' profit margins on loans and investments. Although Merrill Lynch & Co. predicts that profits for 56 top banks should grow 9.8% in 1996 (chart), pan in for a closeup and the picture is murkier.
The biggest potential problem is related to the ongoing growth in lending. Consumer installment credit grew roughly 14% in 1995, according to DRI/McGraw-Hill. While banks profit initially by providing that credit, heavy consumer debt burdens mean more loan delinquencies down the road. Indeed, the American Bankers Assn. says that late payments on bank-card accounts have risen for four quarters in a row and are currently at their second-highest level in 10 years. "Consumer credit quality is, I think, a very big short-term issue, potentially a big minefield," says Judah Kraushaar, a banking analyst at Merrill Lynch.
HARD TO FUDGE. Corporate lending is also expanding rapidly, raising additional concerns about loan quality in 1996. James B. Lee, vice-chairman at Chemical Banking Corp., the top bank in loan syndications, says corporate lending will increase through 1996, but "certain [industry] sectors will continue to deteriorate." That will prompt some borrowers to fall behind on payments or default. Lee says lending standards are far higher than they were in the late 1980s. However, the intense competition to make many loans suggests that some banks are willing to offer loan terms that leave little room for error.
Then there is the problem of profit margins. Today, there's less than one percentage point between the short-term rates at which banks borrow and the longer-term rates at which they typically lend. That means room for profits is scarce. A 1995 study by Merrill Lynch shows that bank stocks have been poor performers nearly every year following periods when short- and long-term interest rates are close together. "This is a hard yield curve to work with," says Jeffrey C. Keil, president of Republic New York Corp.
Luckily, banks still have plenty of wind at their backs. While loan delinquencies are rising, they are still relatively scarce, and banks need to use only small portions of their earnings as reserves for bad credits. Moreover, new businesses are expanding for some of the biggest banks. At J.P. Morgan & Co., Thomas B. Ketchum, head of investment banking for the Americas, expects corporate-finance fees for services such as advising on mergers to increase 40% in 1996.
Expect many banks to be intensely cost-conscious in the coming year. Bank mergers will likely continue at gale force: Gerard Smith, managing director in the financial institutions group of UBS Securities Inc., predicts that by 2000, the top 50 banks will control 80% of the assets in the U.S. banking industry, up from 56% today. And many deals will be predicated on massive cost savings.
REFORM DELAY. Spending on technology will grow in 1996. Most bankers, eager to see their customers reduce their use of high-cost branches and step up use of electronic banking outlets, are placing large bets on systems for banking by phone or personal computer. Edward E. Crutchfield Jr., chairman and CEO of First Union Corp. and one of the country's most acquisitive bankers, plans to stop buying banks for five years while he invests in electronic retail banking. "As soon as we really do have a choice for the customer to make that's realistic, then he will move away from branches," he says.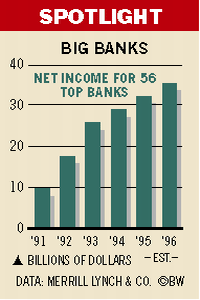 Changes will be harder to come by on the regulatory front. Banks have been stymied on the big revisions they sought in 1995, such as an end to the barriers between commercial and investment banking, and they could well be frustrated again. Banks and insurance agents need to agree on provisions to limit the forays of banks into the insurance business before such banking law reform can move forward.
Having waited this long for deregulation, bank executives aren't holding their breath. However, for those who keep a sharp eye on operations, pay close attention to the creditworthiness of borrowers, and plan for electronic banking, 1996 could be a very good year indeed.
Before it's here, it's on the Bloomberg Terminal.
LEARN MORE