U.S.: How Fast Is Too Fast? Look To The Labor Markets
A falling jobless rate increases the risk of an overheating economy
By
Physicists cannot see particles like quarks and neutrinos when they smash an atom, but they can prove their existence by observing their residual effects. So it is with the economy's maximum sustainable growth rate. Economists cannot always pin it down to a specific number--especially now, when the productivity speedup makes the pace a moving target. But they can point to evidence that economic growth is either above or below this magic number. Right now, the best clue that the economy is exceeding this limit is the continued tightening of the labor market.
The economy's speed limit depends on how many people join the labor force and the growth in productivity. If output is growing at its potential, and productivity growth is stable, businesses absorb all new job seekers and the unemployment rate holds steady. But that's not the case right now. Even with productivity accelerating, spending by consumers and businesses is so robust that companies must hire workers at a greater rate than the number of new job seekers. This has drained the pool of available workers, sending the jobless rate ever lower.
In January, jobs grew by a larger-than-expected 387,000 (chart). Although payrolls were lifted a bit by mild weather during the survey week, the gain was the largest in more than two years. As a result, the jobless rate dipped to 4% in January, the lowest level in 30 years. And the Federal Reserve's new favorite labor indicator, the number of unemployed adults available to work, fell again, to 9.9 million, from 10.2 million in December.
THE DANGEROUS CONSEQUENCE of tight job markets is the upward tug they exert on labor costs. Faced with labor shortages, companies must raise compensation to attract new workers and to retain existing ones. Businesses may try to pass along the higher costs by raising prices, or else they risk missing profit targets. Neither choice is welcome at a time when monetary policy is leaning toward higher interest rates and when economic growth depends increasingly on the stock market.
What makes the January hiring binge especially noteworthy is that businesses are still in dire need of labor despite the great strides being made in productivity. Output per hour worked in the nonfarm sector surged at a 5% annual rate in the fourth quarter, after an equally spectacular showing in the third quarter. For all of 1999, productivity was up 2.9%.
But those gains may not be enough to thwart at least some modest upward pressure on wages and prices this year. As the Federal Reserve's policy committee put it following its Feb. 2 rate hike: "The committee remains concerned that over time increases in demand will continue to exceed the growth in potential supply, even after taking account of the pronounced rise in productivity growth" (chart).
Indeed, economic growth is generating a demand for labor that is sure to send the unemployment rate down to the 3.5%-to-4% range in coming months. At that level, almost no economist will dismiss the likelihood of accelerating wages and other compensation.
ON THAT SCORE, though, the latest productivity report showed no imminent threat. Unit labor costs actually declined in both the third and fourth quarters. But keep in mind that the report's measure of compensation, which is the government's most encompassing measure of wages, salaries, and benefits, grew 4.8% for the year, an already rapid pace that is most likely to speed up in 2000. That means productivity growth would have to pick up even more to prevent a pickup in unit labor costs.
What's more likely is that with the Fed trying to slow the economy, productivity growth will slip a notch, since at least some of the recent gains have been purely cyclical. In other words, the gains are related to the rapid growth in output as opposed to any permanent pickup spurred by technology.
Note also that in 1998 and 1999, increases in unit labor costs exceeded the growth in prices. That trend covers the 75% of the economy tracked by the productivity and costs data, and it illustrates why many corporate profit margins shrank in those two years. However, prices last quarter grew at the fastest pace in nearly three years. Some of that pickup reflects costlier energy, but some of it may well be an attempt to restore margins by testing the waters on pricing power.
Of course, pricing power has been generally nil in recent years, but that may change if demand remains as strong as it did in the second half of 1999--when growth galloped at a 5.7% annual pace. And the healthy state of the labor markets gives households little incentive to cut back. True, mild weather did help to boost payrolls in January. But the acceleration in jobs was not a one-time event. Over the past three months, job growth has averaged 320,000 per month, the fastest three-month advance in two years.
In the goods-producing sector, construction payrolls jumped 116,000 in January, compared with a monthly average of just 18,000 in 1999. With weather shifting to more wintry temperatures across most of the U.S., look for jobs in the building trades to be flat in February, if not to decline.
WEATHER DOES NOT EXPLAIN AWAY the good news in the manufacturing sector, though. Factories added 13,000 workers last month, the second increase in three months. Manufacturers also lengthened the workweek by six minutes, to 41.7 hours, although overtime dipped. The increases in hours and jobs suggest a strong advance in industrial output last month. Output gains are being fueled by the increases in demand. Factory orders jumped 3.3% in December, and the backlog of unfilled orders is soaring.
Despite manufacturing's signs of better growth, service companies were once again the big job producers. More than 250,000 service jobs were created, with large increases in business services and health care.
So far, though, the pickup in job growth has not translated to large wage gains for production workers. Their hourly pay rose 0.4%, to $13.50. Compared to a year ago, pay is growing 3.5%, which means it is rising faster than inflation.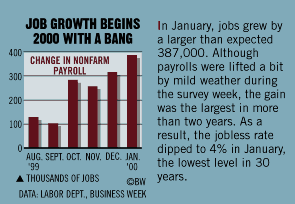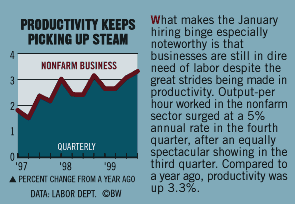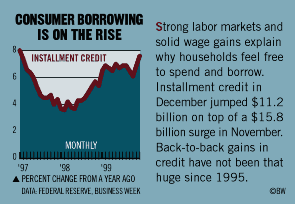 Strong labor markets explain why households feel free to spend and borrow. Installment credit in December jumped $11.2 billion on top of a $15.8 billion surge in November. Back-to-back gains in credit have not been that huge since 1995.
Excessive borrowing is just another tool for consumers to keep spending, which leads to stronger job growth, which fuels even more spending. Where will it all end? Historically, spending slows first and businesses cut back payrolls in response. So expect tight labor markets to increase the pressure on labor costs until policymakers find a way to rein in consumers.