South Africa: A Golden Touch?
So far, President Mbeki isn't just good, he's lucky
Kathy Chenault
He is aloof and authoritarian, and by training, a man of the hard left. Little wonder, then, that when Thabo Mbeki was elected President of South Africa last June, investors saw cause for concern. There was no way Mbeki could duplicate Nelson Mandela's unique ability to heal the rifts between the races and classes. Mbeki hardly looked like the kind of leader to dispel the gloom over South Africa's future and restore economic confidence.
And yet, eight months later, Mbeki's South Africa is looking promising--surprisingly so. While the economy was barely moving in 1998, this year it's expected to grow an estimated 3.5%. International fund managers are hot on the country, and Moody's Investors Service raised South Africa's outlook to "positive" from "stable" in early February. "I haven't been this upbeat in a very, very long time," says economist David Galloway at Investec, an investment bank.
South Africa is profiting from a rare combination of good luck and solid statesmanship. Rising prices for commodities have buoyed its mining industries: When gold prices surged on Feb. 7, the Johannesburg stock index jumped 2%. Economists estimate that every $10 rise in the price of gold adds $139 million to the current account. "If these gold prices continue, there's a good chance we'll open more areas," says Tony Doyle, a financial manager at Gold Fields Ltd., a leading producer. Other metals, from chrome to platinum, are also doing well.
REDUCED DEFICIT. Strength in metals has helped: but so has Mbeki. The Soviet-trained economist has resisted pressure to load up the budget with profligate spending for such things as jobs programs. The deficit, running around 3% of gross domestic product, is half what it was in the early 1990s, in the waning days of the white-led regime. Since late 1998 the central bank has lowered the prime rate more than 10 points, to 14.5% now.
Mbeki has also used his impeccable ANC credentials shrewdly, relying on his contacts with the labor movement to head off strikes and to prepare workers in state industries for further privatizations. "He's saying South Africa is open for business and ready to do what it can to promote investment," says Katharine Butt, head of the Cape Town office of BusinessMap, an independent consultancy.
It sure seems that way. Foreign direct investment probably more than doubled from 1998 to 1999. Much of the money went into a few big privatization deals, such as Swissair's $223 million purchase of a stake in South African Airways. Fueled by foreign money, the stock market hit an all-time high in January. Gold plays are popular and so are financial and other metal companies.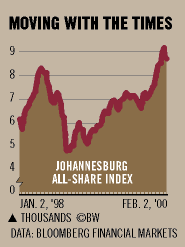 Mbeki's challenge is to continue the momentum. The country still has to contend with a lot of violent crime, high HIV infection rates, and huge disparities in income. The massive jobless rate, estimated at 37%, is the most immediate threat. Foreign direct investment still trails the $1.6 billion needed annually to spur job growth. So Mbeki is forming a council of international hotshots to pull in more money. It will include financier George Soros, Citigroup Vice-Chairman William Rhodes, and Irish media mogul Anthony J.F. O'Reilly.
Although labor strife continues, despite Mbeki's efforts, he isn't backing down. He recently lashed out at the wildcat strikers who shut down a Volks-wagen plant in Eastern Cape province. "Jobs, a better life for our people, and our standing in the eyes of the investor community cannot be held hostage by elements pursuing selfish and antisocial purposes," he said. Stern stuff from a former activist. But Mbeki will try anything to cement the ANC's success.