Shouldering Thailand's High Tech Hopes
Hana has survived the crisis and is expanding fast abroad
By
It's not easy being a Thai electronics company. Just ask Richard D. Han, CEO of Hana Microelectronics, a leading assembler and tester of semiconductors and circuit boards for a host of multinationals. While worldwide demand for the sort of outsourcing services that Hana provides has been growing, Han says his company is undervalued. For starters, the spectacular collapse in 1998 of Thai chip company Alphatec Electronic Co. scared investors away. Most of Thailand's other electronics companies have been on the ropes, too, because of cash-flow problems during the Asia crisis. "We have suffered under the cloud of being a Thai electronics company," says Han. "We have been tarred with the same brush."
Han is now pushing an ambitious plan to escape from that cloud. Having managed its own credit problems quickly, the company is debt-free and can afford to expand. Han, the 42-year-old son of Hana's founder and the holder of an MBA from City University of London, is trying to diversify the family business, putting investments into China, Indonesia, and even the U.S. His goal is not only to have a broader mix of products and customers; he also wants to broaden his geographic reach so that Hana is identified more as a global manufacturer than as a Thai company. He plans an initial public offering this year of a subsidiary overseas--either on Nasdaq in the U.S. or in Singapore. With these moves, he could revive Thailand's aspirations of becoming another Asian high-tech manufacturing center, a dream that virtually died during the Asia crisis, when critics said Thailand should stick to things like agribusiness.
Investors are starting to hear Han's message, and the company is shedding its risk discount. While Hana lost $26 million in 1997, the company has managed to turn a profit ever since. Last year it made $23 million on sales of $220 million, according to Paribas Asia Equity, and is likely to see profits and sales rise by 9% in 2000. The stock, having languished for months, has rocketed (chart). Hana is up 270% in the last 12 months, far outpacing the 47% jump in the Stock Exchange of Thailand index. "The semiconductor cycle is in an uptrend, and people are focusing on laggards," says Gurinder Kalra, regional technology analyst at Morgan Stanley Dean Witter in Hong Kong.
Clearly, the robust U.S. economy and surging demand from Asia help. Thailand's exports rose 14% in December over the same period of the previous year, boosted by more orders for Thai electronic goods and computer parts. As Asia's recovery continues, so does demand for mobile phones, personal computers, and Internet devices. That further helps Hana, whose labor costs are just 25% of those of rivals in countries like Taiwan.
Hana's turnaround wasn't easy. When the crisis hit in 1997, Hana breached covenants on a $90 million syndicated loan, led by Citibank. Around the same time, a fire knocked out 20% of its factory capacity and scared off customers. To keep bankers from calling in loans, Hana increased its capital by $10 million in a one-for-one offering that doubled the number of shares. Then, Hana renegotiated its loans. "That was very, very difficult," recalls Hana Chief Financial Officer Terry Weir. But continued strong orders, plus the fact that Hana earns its revenue in foreign currency, meant it had enough cash flow to meet debts. "We paid them back early, in the end," says Han. By 1999, factories were nearly at capacity, and Hana was ready to expand.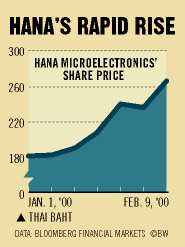 BIG RISK. Han's acquisition trail is now long. In October, he created a joint venture, Advanced Interconnect Technology, with an Indonesian chipmaker. Customers include Motorola Inc. and Siemens, and sales are $13 million a month. U.S. private-equity firm Newbridge took over the company, based on Batam Island near Singapore. But Hana retains 43%. Plans to take it public will make the stake "worth more than the entire value of Hana today," says Han. Hana is also expanding plants in Thailand and China. Hana is "reinventing itself," says analyst Peggy Creveling of Paribas (Thailand).
Han's biggest risk is a $10 million purchase of a U.S. plant making micro-displays for virtual reality equipment. Han sees it as an investment in the technological world of the future. If his track record is a guide, it may turn out to be money well spent.