Hong Kong: On The Road To Wellness
By
Hong Kong's recovery from its worst recession ever is now well established, given the decided upturn in growth in the second half of 1999. Its economy plunged 5.1% in 1998, in the wake of sharply higher interest rates meant to hold the city's currency peg with the U.S. dollar.
After an advance of about 2% in 1999, Hong Kong's economy is expected to expand in the 4% to 5% range in 2000. However, rising interest rates in the U.S., which could force Hong Kong rates higher, add some risk to that forecast. So far, Hong Kong rates have not risen as much as U.S. rates, reflecting rising confidence in the recovery and strong capital flows.
The economic data have looked better than expected in recent months. Exports are accelerating, especially services. December shipments posted the fastest annual growth in almost four years, reflecting stronger regional demand. That growth includes Hong Kong's own exports, as well as huge reexports of goods coming from mainland China, which boosts the city's shipping and trading operations (chart). Imports have also picked up, suggesting firmer domestic demand.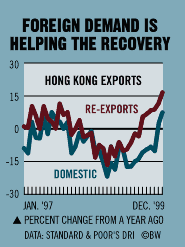 The volume of retail sales is rising, although store receipts continue to decline because of deflation. Housing prices began recovering last year, but they are still below their early-1998 levels. December consumer prices fell 4% from a year ago, but the rate of deflation is ebbing, and many analysts expect prices to stabilize by yearend. That will help Hong Kong adjust to higher U.S. rates, since real rates--inflation-adjusted borrowing costs--will be falling.
Profits will begin to benefit from steep cuts in labor costs. That expectation is already reflected in the Hang Seng stock index, which surpassed its pre-Asian-crisis peak late last year. Unemployment has topped out, but it remains high, at 6% in December, not far from last year's 6.3% record and a long way from the 2.5% level in December, 1997. Economic growth will help, and government programs are set to create new jobs, but the rate is expected to decline only slowly.