Cementing A Relationship?
By
It's a rare sight to see a cement maker mixing it up with the high-flying New Economy Internet stocks. But Southdown (SDW), the nation's second-largest cement producer, has been pushing up since early December, from 46 to 57 5/8 a share. One reason: A number of investors believe Southdown is in play.
Rumors have swirled in Europe that Southdown rejected a buyout bid in December from Britain's Blue Circle Industries, the world's No. 5 cement maker. On Jan. 31 something happened that may push Blue Circle to sweeten its offer for Southdown: France's Lafarge, the world's No. 2 producer, announced an unsolicited offer to buy Blue Circle.
Nick Pantazis of New York investment firm Moness Crespi & Hardt thinks that Blue Circle had suspected all along that Lafarge would go after it, hence its attempt to woo Southdown--as a defensive move. He suspects that talks bogged down because Blue Circle didn't offer a high enough price.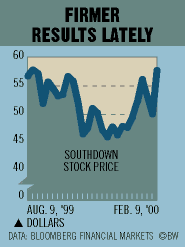 Pantazis says that, based on valuations in the buyouts of Lone Star Industries and Giant Cement, Southdown is worth 80 a share. He thinks Southdown may give in if Blue Circle ups the price to 85. Another possible buyer, says Pantazis, is Cemex, a major Mexican producer.
"Southdown," says Pantazis, "is a very attractive property," with plants in big markets, including California and Florida. The kicker to the takeover play, he says, is the favorable outlook for cement. "Demand is on the rise against a backdrop of limited local supply," says Pantazis. He expects Southdown will earn $6.25 a share in 2000 and $6.75 in 2001, up from $5.50 in 1999.