A Net Ipo Boom In Asia Or A Bubble?
Money is madly chasing dot-coms at the expense of blue chips
By
If this year's calendar for new stock offerings is anything to go by, Morgan Stanley Dean Witter Managing Director Michael J. Berchtold is going to need to redecorate his Hong Kong office. His bookshelves are already sagging under the weight of framed mementos of recent equity deals. And with the pipeline for initial public offerings in Asia bulging, he'll have to make room for a lot more. "We're swamped, absolutely swamped with the number of issuers," says Berchtold, who laments that he spends a lot of time just saying no to companies keen to list before they're ready.
Asia, it seems, has IPO fever. With its economies clearly on the mend, overseas money flooding back, and a technology wave sweeping the region, many are betting that the music will last a while--at least for companies with a dot-com angle. Investment bankers predict Asian companies outside of Japan could raise a record-breaking $60 billion this year, up from just $27 billion last year, according to Thomson Financial Securities Data. Just in Hong Kong, which launched a new board for high-tech listings last November, new issues could total $26 billion, a tenfold increase over 1999. In India, where 38 IPOs raised $550 million last year, another 150 to 200 companies plan to list.
OVERHEATING? Investors are hoping to find more stocks that will duplicate last year's success of Richard Li's Pacific Century CyberWorks, which plans to deliver high-speed Net access and programming across Asia via satellite and cable. Its share price has risen 2,000% since Li took control of the company last May. Institutions are clamoring to cash in on Net plays, too, says Charles Whitworth, head of Hong Kong research at ABN Amro Asia. During a recent presentation he made in New York on Hong Kong blue chips, fund managers waved aside the usual talk about Hutchison Whampoa and China Telecom, saying they wanted to hear about smaller tech-related stocks. "You know you are in a bull market when institutions talk like that," says Whitworth.
That also could be a sign that Asian markets are overheating. If markets get glutted with faddish tech stocks, companies in more conventional industries could be left hard-up for capital. But that isn't holding anyone back. Asian emerging markets attracted $15 billion in portfolio inflows in 1999, triple the 1998 level, according to the Institute of International Finance. "The whole tech phase is so early that the market will absorb a lot before the saturation point," says Merrill Lynch & Co. analyst Ajmal Rahman.
That leaves old-line companies rushing to cobble together business plans with a tech angle. Sun Hung Kai Properties plans to raise $1 billion for its Sunevision, which links residents at company properties via Intranet to local businesses, on Hong Kong's new Growth Enterprise Market (GEM). The flagships of billionaire Li Ka-shing's property giant Cheung Kong Holdings and retail and telecom powerhouse Hutchison Whampoa are planning to list their joint-venture Internet portal Tom.com on GEM in the coming months.
But for every Tom.com there are several small startups submitting their listing proposals before the ink on their business plans has even dried. "A lot of them smack of jumping on the bandwagon," says Peter Churchhouse, managing director at Morgan Stanley. China.com, for example, plans to break off and list its Hongkong.com portal this year. While details on how the funds will be used are unclear, there seems to be little reason to hive off the Hong Kong operation other than to raise extra cash on the back of its hugely successful Nasdaq debut last year.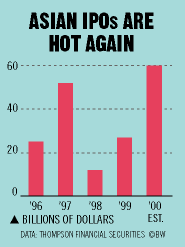 There are some signs investors will shun nontech offerings in favor of dot-coms. Investment banks are particularly concerned about market reception to China's plan to float some $14 billion in shares of privatized companies. A $325 million offering for Beijing International Airport flopped in Hong Kong on Feb. 1. Retail investors took up just 20% of their allotments, and the stock debuted with a thud, closing 5% below its 24 cents issue price. Even though the company is profitable, unlike most dot-coms, "it's not as sexy as an Internet company," says one ABN executive.
In addition, China National Petroleum Corp.'s $5 billion issue planned for February has already slipped to March. And China National Overseas Oil Corp. shelved a $2 billion IPO in October when buyers balked at the price. "It's going to be a hell of a challenge to get those deals done," says an executive involved in all three. If the Chinese can only figure out how to sell oil online, they'll have it made.